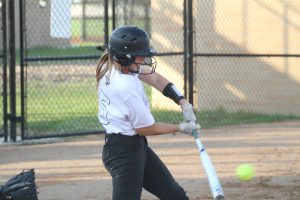 A 14-run first inning helped the Ankeny Centennial softball team achieve a milestone victory on Thursday night.
The Jaguars rolled past visiting Des Moines North, 15-0, in three innings in a Class 5A regional quarterfinal. The win allowed Centennial (25-15) to set a new school record for most victories in a season.
"I think we all feel really good because it's a pretty big accomplishment for our team," said junior outfielder Cassi Garland. "Hopefully, we just keep it rolling."
The Jaguars batted around twice in the first inning against two North pitchers. Garland hit an RBI single and an RBI double during the outburst, which included several walks and hit-by-pitches.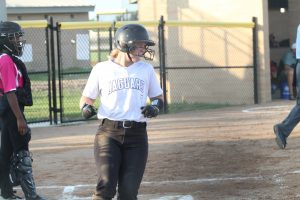 "We knew what to expect here today," said Centennial coach Randy Schneider. "Part of it is that you've just got to play fast and competitive softball. We know it'll be a completely different look on Saturday."
Cassie Severson had a two-run double for the Jaguars. Taylor Runchey, Franie Burnett and Lizzy Klunder each scored twice and drove in a run.
"The good thing is that we had a good practice this morning for two hours, and I thought the kids competed," Schneider said. "They swung the bat, and I give our kids a lot of credit."
The loss ended a winless season for North. The Polar Bears (0-23) lost every game by the mercy rule.
"We just expected to fight hard as a team no matter what the outcome was going to be," Garland said. "We needed to prepare ourselves for the next game."
Junior Karlie Kaiser (6-5) was the winning pitcher. She tossed a one-hitter and had four strikeouts.
"Coach told me right before warmups that I was starting," said Kaiser. "I was happy that I could get some more time on the mound, especially during regionals."
Kaiser has won her last three decisions. She ended the regular season with victories over Winterset, the No. 3 team in Class 4A, and No. 11 Waukee.
"She's been throwing well," Schneider said. "I don't know how much more she'll throw for us the rest of the year. At this stage she might be more of a middle relief type for us, but I just wanted to give her a chance. We were able to get her a regional win, and that was awesome."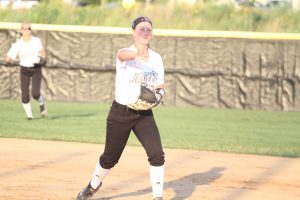 The Jaguars will play at No. 3 Indianola (32-3) in a regional semifinal on Saturday at 7 p.m. The Indians lost to Centennial, 4-3, in eight innings at the Dallas Center-Grimes Invitational a week ago.
"It was definitely a confidence boost to beat them the first time," Garland said. "We just need to come out with a lot of energy, and we can do anything."
Kayla Stone threw an eight-hitter in the first meeting, which snapped Indianola's 22-game winning streak. Stone or Haley Gatica will likely get the start on Saturday, but Kaiser will be ready to go as well.
"I feel really confident in our team," Kaiser said. "We've come a long way as a team, and I feel pretty good about our chances."