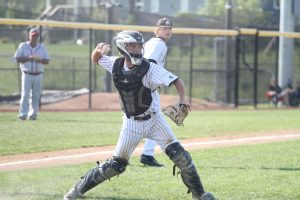 There isn't a better way to celebrate your Senior Night than with a walk-off win.
Unless, of course, you can do it twice.
The Ankeny Centennial baseball team rallied to win both games of a non-conference doubleheader against visiting Des Moines East on Friday. The Jaguars twice scored two runs in the bottom of the seventh inning to post 6-5 and 10-9 victories.
"We can do anything right now," said sophomore Logan Neils, who played a key role in Centennial's comeback in the opener.
The Jaguars extended their winning streak to four games while evening their record at 17-17. East dropped to 16-19.
Centennial overcame a 7-1 deficit to win the nightcap. Joe Healy (3-3), who was among the seniors honored between games, allowed just two runs on five hits and had four strikeouts over the final four innings to earn the victory.
Trey Morris went 2-for-3 with a double and drove in three runs, giving him a team-high 18 RBIs on the season. Derek Boike went 2-for-3 with a pair of doubles, while Joel Hyler went 2-for-4 and had two RBIs.
Connor Kesterson walked twice and knocked in two runs for the Jaguars, who will play another non-conference doubleheader at Sioux City North on Saturday. Cory Prange scored four times.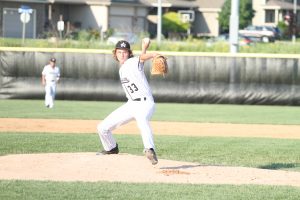 In the opener, Centennial used a two-out rally in the seventh inning to snap East's five-game winning streak. Kaden Bollwinkel capped the rally with a walk-off single that allowed Mason Thompson to race home from second base.
"It feels really good," Bollwinkel said. "I was 0-for-2 at the beginning of the game, and I knew the coach needed me to come through in a big position. I went up there and did it."
Neils relieved starter Noah Stober with one out in the fifth inning and allowed just one run over the final 2 2/3 innings to earn the win. He also had three strikeouts while raising his mark to 2-1.
"I just tried to throw strikes and let my defense work," said Neils, who got out of a bases-loaded jam in the fifth inning to keep the Jaguars within striking distance.
Neils also contributed at the plate. In his first at-bat of the season, he hit an RBI single to cap Centennial's three-run rally in the bottom of the fifth that tied the game at 4-4.
After East regained the lead in the sixth inning, the Jaguars rallied in the seventh. Josh Meador led off with a single, advanced to second on an errant pickoff attempt, and eventually scored on another single by Neils.
"I didn't expect to pitch or hit," Neils said. "But it was a good time to get my first hits."
Neils advanced to second on a throwing error and was replaced by Thompson. Bollwinkel then followed with a game-winning single off East righthander Desean Giboo.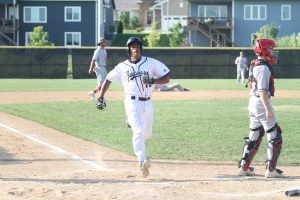 "He was a really good pitcher throughout the whole game," Bollwinkel said of Giboo. "I think his pitch count got really high late, and he had to throw me a strike or else he was going to get taken out. I knew he was going to throw me one right there, and I just had to make good contact on it. It was low and down the middle–right where I like it."
Prange went 3-for-4 and stole two bases in the win. He scored one run and drove in another.
Ryan Vermeer went 2-for-4 and is now batting .361 on the season. Keaton Gray had an RBI double, while Greyson Jennings tripled to ignite the Jaguars' fifth-inning rally.
Prange and Morris each had an RBI single during that rally. Morris was then replaced by Hyler, whose delayed steal of second base sparked an argument between both coaches and the umpires.
After East coach Brian Luft argued that Giboo should not have been called for a balk, the umpires sent Hyler back to first base. But Centennial coach Mark Hey then successfully pleaded his case, and Hyler was allowed to advance to second.
Luft argued again to no avail, and it proved to be a crucial call when Neils followed with a game-tying single.