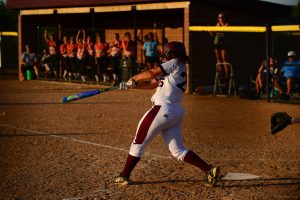 Opposing softball teams might want to think twice before pitching to Ankeny's Kennedy Thomas with the bases loaded.
Thomas hit her fourth grand slam of the year, Jasmine Rumley added a pair of solo blasts, and the ninth-ranked Hawkettes rolled to a 12-0 victory over visiting Council Bluffs Jefferson in four innings in a Class 5A regional semifinal on Saturday.
"We did not know that much about Jefferson coming into this game, but we knew they won their first regional game," said Thomas, who also pitched a no-hitter. "So we knew not to take them for granted."
Ankeny (28-12) bounced back after losing its final three games of the regular season. The Hawkettes will play at No. 5 Valley (29-9) on Tuesday in a regional final.
The Tigers swept a doubleheader against Ankeny on Monday to capture the CIML Central Conference title.
"We've had a plan all along," said Ankeny coach Dave Bingham. "We knew when the regionals came out that the Valley game would be a learning game. The wins and losses were not important to us at that time. You've just got to keep learning because your ultimate goal is to win five games at the end of the year. I don't think the girls have any doubt that they'll play well from here on out. It was part of the master plan."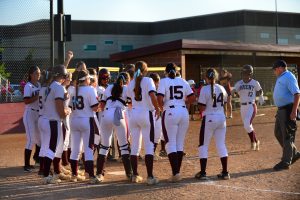 Rumley homered in each of the first two innings as the Hawkettes built an early 4-0 lead. She now has 10 home runs on the year.
"I just went up there, saw a pitch and then just swung away," said Rumley, who went 3-for-3 and scored three times.
Thomas also went 3-for-3 and had a double before hitting her grand slam during Ankeny's eight-run fourth inning that ended the game. She now has 68 RBIs on the year and 159 for her career, which are both school records.
Thomas has hit 15 home runs this season, the most by any Hawkette with the exception of Kendyl Lindaman, who tied the all-time state record with 24 homers in 2013.
"KT has had a great year, but we're just blessed to have power all the way through the lineup," Bingham said. "We hit three balls off the fence from the bottom of our order. All three of those balls are out (of the park) at Valley, so it's a good situation for us to be playing over there (on Tuesday)."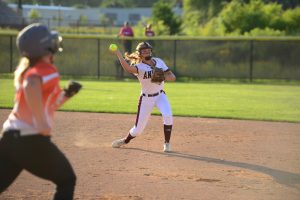 Anna Voigt went 2-for-3 with two RBIs, while Zoe Baker also drove in two runs. Madison Bonner-Palmer went 2-for-2 with a double and one RBI.
Thomas walked two and had three strikeouts en route to her no-hitter. She improved her mark to 7-2.
"Jefferson had a decent record, and they're used to winning," Bingham said. "But we got the game that we expected to have. KT shut them down, and that always helps."
Jefferson finished with a 19-16 mark. The Yellow Jackets posted a winning record for the first time in more than a decade.
"You always want to win," Jefferson coach Amy Anderson told the Council Bluffs Nonpareil. "Second best is, you come out and compete, and we felt like for those first few innings–two runs, two runs, no runs–to hold them off until that big inning, we felt like we were competing."