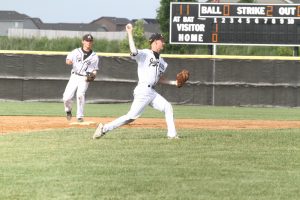 The Ankeny Centennial baseball team pounded out 22 hits en route to a doubleheader sweep on Monday at Fort Dodge, assuring the Jaguars of a winning season.
Centennial posted a 7-5 victory in the opener, then erupted for 11 runs in the sixth inning to win the nightcap, 19-2, in six innings. The Jaguars improved their record to 20-18 heading into Friday's Class 4A substate quarterfinal against Mason City.
After dropping to 13-17 at one point, Centennial has won seven of its last eight games to build some momentum for postseason play.
"It's better than the other way," said Centennial coach Mark Hey. "We're happy. The boys are playing well, and they're getting some confidence. It's good to see."
Trey Morris had a big night at the plate with four hits. He went 3-for-5 with a home run and four RBIs in the second game.
Keaton Gray went 2-for-4 with a double. He scored three runs and drove in three more.
Kaden Bollwinkel went 2-for-3 and had two RBIs, while Avery Gates also knocked in two runs. Ryan Vermeer went 2-for-3 and had one RBI.
Josh Meador (2-1) earned the victory on the mound. He allowed two runs on four hits over the first five innings and had six strikeouts.
The Jaguars used a six-run fifth inning to erase a 3-1 deficit in the first game. Derek Boike went 2-for-4 and had two RBIs in the win.
Greyson Jennings went 2-for-3 and drove in a run. Meador went 2-for-4 and scored a run.
"We just hit the ball really well," Hey said. "We played a pretty good doubleheader."
Tyler Heinzerling (3-2) allowed just one earned run over the first four innings. He gave up four hits and five walks, but was able to limit the damage.
Cory Prange earned a save. He needed just nine pitches to get three outs in the seventh inning.