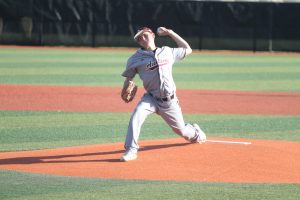 Both Ankeny and Ankeny Centennial will face familiar foes in the Class 4A substate baseball semifinals on Monday night.
The Hawks (20-16) will host Des Moines East (17-22) in Substate 7, while the Jaguars (21-18) will play at 10th-ranked Valley (26-15) in a Substate 2 matchup. Both games begin at 7 p.m.
Ankeny, which is riding a six-game winning streak, swept a doubleheader at East on May 30 by scores of 10-0 and 8-3. Will Casel (5-3) could get the start on the mound for the Hawks; he threw a one-hitter and had seven strikeouts against the Scarlets earlier this season.
Ankeny is coming off a 6-1 victory over Newton in a substate quarterfinal on Friday. Jayden Maifeld tossed a one-hitter and had 10 strikeouts for the Hawks, who had just two hits in the win.
"We've got to do a little better job of hitting," said Ankeny outfielder Brody Brecht.
East advanced to Monday's game with a 4-0 victory at Ottumwa. Bryce Crabb threw a four-hitter and had nine strikeouts as the Scarlets avenged four regular-season losses to the Bulldogs.
The winner will play at second-ranked Urbandale (32-6) in the substate final on Wednesday.
"We're going to do what we can to get (Maifeld) back on the mound (Wednesday)," said Ankeny coach Joe Balvanz.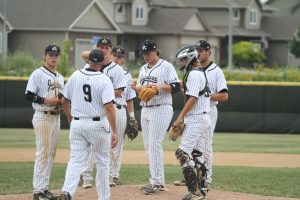 The Jaguars, meanwhile, will try to knock off Valley, the CIML Central Conference champion. The Tigers swept all four games against Centennial this season by a combined margin of 48-15.
The Jaguars held on for a 3-2 victory over Mason City on Friday. It was their eighth win in the last nine games.
"I think we can keep it going," said Centennial sophomore Trey Morris, who combined on a nine-hitter with Cory Prange. "Our Bench Mob is doing pretty well…they're loud. We're having fun, and it's electric in (the dugout). It's awesome."
Valley posted a 7-1 win over Des Moines Roosevelt in a substate quarterfinal. Will Moritz was the winning pitcher and also drove in two runs.
The winner will play at No. 6 Indianola (34-3) in the substate final on Wednesday.
"It's just going to take a lot of hard work and no slacking off," said Centennial outfielder Greyson Jennings, who went 2-for-3 and had two RBIs in Friday's win. "It's going to take a lot of preparation. How you practice is how you play."