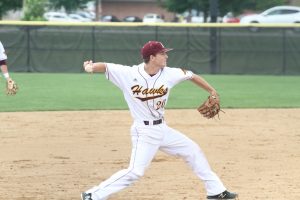 Senior Seth Harpenau helped the Ankeny baseball team to a 21-17 record. The Hawks finished their season with a 6-0 loss at second-ranked Urbandale in a Class 4A substate final on Wednesday.
Harpenau batted .304 with seven doubles, one triple and 16 RBIs. He received all-conference honorable mention for the second straight year.
Here is some inside info on Harpenau:
Congratulations on an outstanding season. I know your team didn't meet all of its goals, but are you proud of what you were able to accomplish?
Yeah, I'm proud of how far we got. We had a chance to make it to where we wanted, but we fell short.
The highlight of the season for you came in last Monday's substate semifinal against Des Moines East, when you hit a walk-off single in the seventh inning to give the Hawks a 5-4 victory. Did you know it was a game-winning hit as soon as you struck the ball?
I didn't. I knew I was going to be in a big situation for the team from where I was due in the order that inning. I focused on getting a base hit no matter the outcome.
Can you describe what your emotions were like immediately afterwards? Is that the best feeling you've ever had on a baseball field?
I would say that would be the most exciting moment for me this season, and it would be one of my most memorable moments on the field.
Did your teammates jump on you in a big pile?
Yeah, they mobbed me near the first-base line.
Unfortunately, your season ended two days later with a loss at Urbandale, which got a two-hitter and 10 strikeouts from hard-throwing righthander Luke Patzner. What made him so effective?
His placement was really effective, and he used his curve at times to keep us off-balance.
Was he the best pitcher you faced this season?
Yeah, he would be one of the the top pitchers I have faced this season.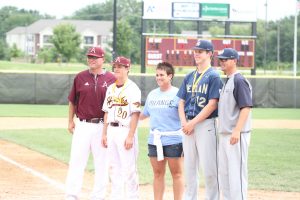 Your brother, Henri, was also a key member of the team. Have you guys always played on the same team together in the various sports that you've played?
Yeah, we played baseball and hockey on the same team since we were young.
How are you and Henri alike and how are you different?
I would say we are more different than alike, but we do a lot of things together. We take similar classes.
Your team blended a large senior class with some talented young players, including five freshmen. Do you think the future of the program is in good hands?
Yeah, there are some talented young players that could bring a lot to the upcoming years. I think they got a lot of things down that can be built from there.
Plans for next year?
I will be attending DMACC for a couple years and then transfer to Iowa State to complete a degree.
Bryce Harper or Mike Trout? If you had to choose one of them to start a team, who would you pick?
Mike Trout. I think he would be a good role model and can manufacture hits.