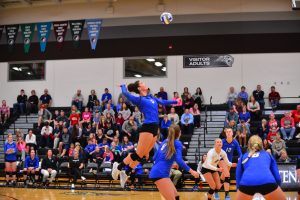 The BIG EAST Conference has announced the winners of the 2017-18 BIG EAST Scholar-Athlete Sport Excellence Awards, which recognize academic and athletic achievement as well as community service. Creighton's lone honoree is volleyball player Jaali Winters of Ankeny, a rising senior who stars on the court and in the classroom.
The Scholar-Athlete Sport Excellence Awards are given to one student-athlete in each BIG EAST-sponsored sport based on academic credentials, athletic accolades or performances and volunteer service to the community. Student-athletes who have attained junior academic standing and a minimum cumulative grade-point average of 3.00 are eligible. The winners are chosen by the BIG EAST Faculty Athletics Representative Council.
While the format of the awards allows for only one declared winner in each sport category, the selection of the recipients proves each year to be a challenge for the FAR Council, as candidate nominees represent exceptional student-athletes who excel in academics, service, and athletics, and are outstanding representatives of their schools and the Conference.
Winters was named to the CoSIDA Academic All-American Second Team last fall after helping the Bluejays to a fourth straight BIG EAST regular-season and tournament title. The Bluejays were ranked every week of the season, and Winters was a key part of that success. The former Ankeny Centennial star was named AVCA First Team All-East Region and First Team All-BIG EAST for the third time each, and also a VolleyMob.com and PrepVolleyball.com Honorable Mention All-American. Winters was recognized with the Carl M. Reinert, S.J., Female Scholar-Athlete of the Year in April.
Winters has compiled a 3.93 cumulative GPA in Business Intelligence & Analytics. She is a three-time member of Creighton University's Dean's List.
(Story courtesy of Creighton University)