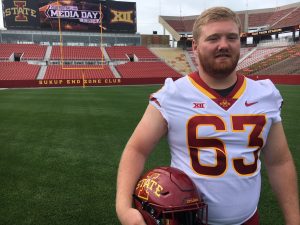 Collin Olson has a lot in common with former Ankeny and Iowa State teammate Joel Lanning.
Both were standouts in the same three sports in high school–football, wrestling and baseball.
Both of them went on to join the Iowa State football team and had to work their way up the depth chart during their first few seasons with the Cyclones.
A year ago, Lanning made the unlikely move from quarterback to linebacker and earned all-American honors while leading the Cyclones to an 8-5 record and a Liberty Bowl victory over Memphis. He has joined the Dallas Cowboys as an undrafted free agent.
Now, Olson is trying to pull a reverse Lanning, moving from the defensive line to the offensive line. The 6-foot-1, 279-pound redshirt junior is listed as a second-team right guard along with freshman Trevor Downing behind starter Josh Knipfel heading into fall camp.
"About a couple weeks after the bowl game I was in the training room and coach (Matt) Campbell came up to me and asked if I wanted to switch to offense," Olson said during the Cyclones' Media Day on Tuesday. "And I thought if he was asking then there's probably an opportunity to fill a spot there or fill a need that he had in his head. He gave me the choice and I just took it, and honestly I think it's been a good choice so far. I like how it's going. I like the guys I'm around right now, and I think it's been pretty smooth so far."
Olson has switched from No. 54 to 63. Offensive lineman Josh Mueller already wore No. 54, so Olson had to pick a new number.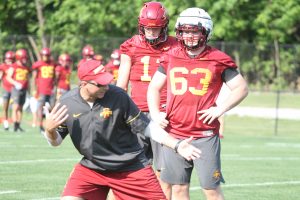 After playing on Ankeny's state championship team in 2012, Olson moved across town to Ankeny Centennial and earned second-team all-state honors as an offensive lineman in 2014. He said the transition back to offense hasn't been too difficult.
"To start it was kind of tough, but we have a good group of coaches who were in there working with us," Olson said. "A lot of older guys on the O-Line would come say, 'Hey, let's go get some work in.' And they'd say, 'Anytime you need me, just come talk to me. Come find me.' That was pretty much everybody on the O-Line. They would do whatever they could to help me acquire the skill set again, so it's been pretty smooth. I'm just grateful that we have such a great O-Line and such great leadership among the older guys that allowed me to pick things up quicker than I was expecting."
Like Lanning, Olson could have pursued a different sport coming out of high school. He placed sixth at 285 pounds in the Class 3A state wrestling tournament as a senior, and he set a Centennial school record with 14 home runs as a junior.
Olson elected to join the ISU football program as a preferred walk-on.
"I just have a love for the game of football," Olson said. "I just like playing, I like to practice and to get better in the weightroom and on the field, and I just like hanging out with these guys. I like working with my team and hanging out in the locker room. If I didn't have football, I wouldn't have built a lot of the friendships I have. A lot of the older walk-ons have pushed me through (some tough times). To see the successes that they've had–the Jack Spreens, the Josh Jahleses, the Spencer Bentons–it motivates you to get to where they're at."
Olson made his first official appearance for Iowa State during last year's game at Akron. He played a few defensive snaps in the Cyclones' 41-14 victory.
"It was awesome," Olson said. "It was cool to see all the fans there, and just to finally get on the field in an Iowa State jersey was a dream come true."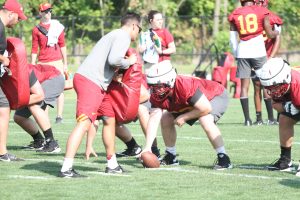 Now, Olson is hoping to become a part of the regular rotation on the offensive line. He is working out at both the center and guard positions.
"I'll play anywhere they need me right now," Olson said. "It's been fun to pick up on a couple of different positions. I think it's helped to learn two positions rather than one, because you can implement what you learn at one with the other. Having a little bit of versatility is good, too."
Knipfel is one of four returning starters on the offensive line. The others are center Julian Good-Jones and tackles Sean Foster and Bryce Meeker.
Campbell said on Tuesday that the performance of the offensive line will be a crucial component of the Cyclones' success.
"Coach has put a little bit of pressure on us, trying to motivate us to take the next step," Olson said. "I think if the O-Line can take the next step, we can be a team that can compete for championships. And I think we're doing that right now, especially with the upperclassmen like Julian and Bryce. They're just pushing everyone every single day on every single rep to go as hard as you can. Eventually, I think we'll get there."