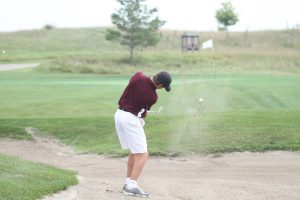 The challenge for some members of the Ankeny boys' golf team is to play a solid 18-hole round and not just nine holes.
That was very evident during Tuesday's CIML Central Conference dual meet against visiting Dowling Catholic, which posted a 308-315 victory over the Hawks at Otter Creek Golf Course.
"I thought we played Ok," said Ankeny coach Mike Weddingfeld. "We definitely are working toward playing a full round and limiting mistakes."
Thomas Nygren led Ankeny with a 77, but his score could have been even better. After shooting a 36 on the front nine, he struggled to a 41 on the back nine.
Teammates Hunter Johnson and Joey Newton posted similar splits. Johnson shot a 42-36–78, while Newton carded a 39-46–85.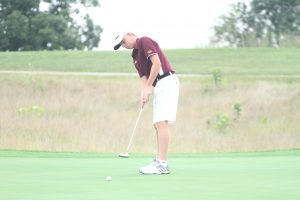 "Hunter, Thomas and Joey all had really good nine-hole rounds, but then faltered on the other nine," Weddingfeld said. "We just need to learn to limit our mistakes and get rid of a few bad holes each round; we had too many double and triple bogeys. But Hunter did a great job of battling back from a tough front nine."
Dylan Taylor fired a 78 for the Hawks. Luke Parkinson also had a counting score with an 82, while Ty Roghair finished with a 96.
"Again, we had a very solid round from Dylan," Weddingfeld said. "Four of our top six kids right now are sophomores and still growing and learning how to finish rounds. We will continue to work hard and improve."
Parker Ardary and Jake Calhoun each shot a 76 to lead the Maroons. Ardary earned medalist honors on a card-off.