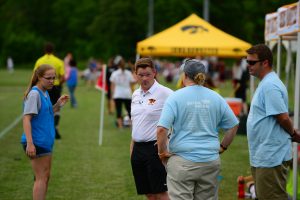 Ankeny girls' soccer coach Dan Bertsch has resigned from his position after three years with the program.
Ankeny Activities Director Brent Buttjer said that all three of Bertsch's assistants have resigned as well.
"Coach Bertsch provided a great deal of passion and dedication to our girls' soccer program for which I am grateful. We wish him luck in the future," Buttjer said. "In addition, assistant varsity coach Megan O'Keefe elected to resign due to personal reasons and JV 1 and JV 2 coaches Nancy Javaux and John Cook resigned their positions to allow the new coach the flexibility to create his/her own roster of coaches to support the soccer program philosophy."
Bertsch guided Ankeny to a 36-21 record during his tenure, including a pair of berths to the state tournament.
"I would really like to thank Ankeny High School, Mr. Buttjer, the fans, parents and all the players for providing me the opportunity and privilege to coach," Bertsch said. "It was truly an honor to work with all of you, and I wish for continued success of the Hawkette soccer program in the future."
Ankeny went 19-3 and placed second in Class 3A last season. The Hawkettes dropped a 3-2 decision to crosstown rival Ankeny Centennial in the championship game.
"The girls' soccer program had a very successful year, ending the season as state runner-up," Buttjer said. "This was a crowning accomplishment to the season, and sets the stage for the Hawkettes to succeed in the upcoming season."
Ankeny defender Saige Adamson, a senior-to-be, said she was surprised by Bertsch's departure.
"He was very dedicated to our team and worked hard to get us where we are," Adamson said.