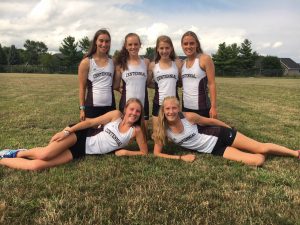 The Ankeny Centennial girls' cross country team has qualified for the Class 4A state meet in each of its first five years as a varsity program.
There's no reason to believe that the Jaguars won't earn another trip back to Fort Dodge in 2018.
Centennial returns six varsity regulars from last year's team that placed 13th in Class 4A with 242 points. Head coach Eric Cogdill sees a lot of similarities between this team and the 2015 squad that finished 14th at the state meet.
"We lost a sure-fire performer at the top (in Emma Gordon), we return a core of strong runners and some question marks, we have a small freshman class coming in, and there is a need of and potential for some girls to step up," Cogdill said. "Patience early is going to be important as we look to hit a coaching goal of ensuring we run our best at the very end of the year."
There are 70 girls on the roster, the most in school history. The Jaguars are 11th in Class 4A in the Iowa Association of Track Coaches' preseason rankings.
The returning varsity regulars are senior Jesslyn Gaumer; juniors Kierstan Fritz, Sophie Lee and Jeanne Peters; and sophomores Grace Meador and Kathryn Vortherms. Peters is 21st in the Class 4A individual rankings.
"The practices are going really well," Peters said. "We've been working well as a team so far, and we have a lot of depth on our team."
Peters, Lee and Meador all placed in the top 15 at last year's regional meet, making them individual state qualifiers. Peters then went on to place 32nd in Class 4A with a time of 19 minutes 31 seconds.
Lee set a personal best of 19:40 while placing 12th at the CIML Central Conference meet, which was held at DMACC. She helped the Jaguars to a runner-up finish overall.
Meador, who ran in 10 varsity races as a freshman, will also be relied upon heavily. The Jaguars need to replace Gordon, who is now running at Iowa, as well as Savana Alt, who placed 24th at the state meet as a freshman before moving to Texas with her family.
"The unexpected loss of Savana creates a hole in our varsity lineup that will last for three years," Cogdill said.
Freshman Kendall Jorgensen could pick up some of the slack. She placed in the top 10 in every meet she ran as an eighth grader.
Seniors Sara Camargo and Bri Smith, junior Morgan Graybill, and sophomores Katie Jensen and Macie Langstraat are among the others battling for varsity positions. Graybill and Smith placed third and fifth, respectively, at the Jaguars' time trial.
Camargo is entering just her second year of cross country, but had a very strong summer and is running with the team's top group. Jensen and Langstraat, meanwhile, ended last season with times among the top 60 freshmen in the state for all classes and have continued to improve.
"We had a core group of about 15 girls frequently running together over the summer and another 25 girls who were regular attendees," Cogdill said. "We set a goal for our newcomers to earn 200 miles and our returning runners 300 miles, and one-third of those miles could be converted cross-training miles, which is important to note. Together, we had 14 girls who have turned in sheets showing they met the goal. All in all, it was a good summer of preparation."
The Jaguars will open the season by hosting the Centennial Invitational on Tuesday at DMACC, beginning at 5 p.m. Johnston, the two-time defending Class 4A champion, will be among the teams in the field.
Cogdill said his team is again hoping to qualify for the state meet. That is one of 10 goals that was set by the girls.
Many of them are process goals as opposed to product goals, Cogdill said.
"The girls want to be leaders in the school, they want to maintain a family/sisterhood bond among all team members, they want to hold everyone accountable, and they want to create an environment of positive competition," he said. "Those are just some of the goals."