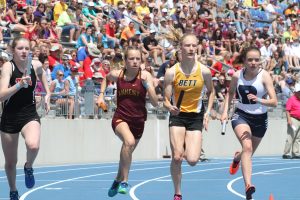 Eric Klingensmith is hoping to build the Ankeny girls' cross country program into a regular state-meet qualifier once again.
Prior to the split into two high schools, the Hawkettes advanced to the state meet in 11 of the 13 years from 2000 to 2012 under former coach Craig Doocy. The team then suffered through a three-year drought before Doocy guided Ankeny to another state-meet appearance in 2016, his 28th and final year at the school.
Klingensmith took over the program last year and guided Ankeny to five fourth-place finishes on the season. One of them came at a Class 4A regional meet at Southeast Polk, where the Hawkettes finished 11 points behind the host Rams for the third qualifying spot.
Ankeny's Alex Robran and Meghan Trimble both qualified for the state meet as individuals, but the duo graduated last spring. Robran, who went on to place 20th in Class 4A with a time of 19 minutes 23 seconds, was a three-time state qualifier for the Hawkettes.
"As with every season, our ladies want to qualify our team for the state meet, which remains a top-tier goal for us this year," Klingensmith said. "In addition, we focus our attention on the small successes each of our teammates makes with every stride. Each of those small goals–such as improving placement or time in a meet, developing a race strategy that consistently works for a girl, or simply finishing a race strong by passing several competitors in the finish chute–can evolve into reaching much larger goals for us.
"Each and every one of our ladies sets individual and team goals for all competitions that act as opportunities for growth, learning, and success," he added.
Ankeny returns five of the top eight runners from last year's squad. Juniors Lauren Clark, Cierra Fillinger and Lydia Hill are back along with senior Sarah Bosch and sophomore Madeleine Murphy.
Murphy nearly qualified for the state meet as a freshman. She placed 16th at the regional meet in 20:54, finishing just 6 seconds behind Trimble.
Murphy earlier placed 18th at the CIML Central Conference meet, which was held at DMACC. She helped the Hawkettes to a fourth-place finish.
Both Murphy and Clark ran in nine varsity races a year ago. Clark took 28th at the regional meet in a time of 22:09.
Bosch competed in eight varsity races. She finished 34th at the conference meet in 21:22.
Fillinger and Hill earned spots in the varsity lineup midway through the season. Fillinger went on to place 32nd at the regional meet in 22:28, while Hill finished 33rd in 22:35.
There are 46 girls on the roster, including several promising newcomers. Sophomores Megan Bosch and Ally Phongsavanh are both competing for varsity positions, and so is freshman Talia Dosh.
"During our eight weeks of summer running we consistently had 30 to 35 ladies putting in 3-6 miles each day to prepare for our upcoming season," Klingensmith said. "We have several new girls who are already making an impact in our training, and have done so all summer and into the first week of practice."
Junior Fiona Riordan is also expected to play a key role for the Hawkettes–both on and off the cross country course.
"Fiona is not a newcomer, but she will make an impact in a leadership role as well as in the varsity lineup," Klingensmith said.
Ankeny will open its season on Tuesday at the Ankeny Centennial Invitational. The meet begins at 5 p.m. at DMACC.
The Hawkettes will then compete in the Ames Invitational on Aug. 30 at the ISU Cross Country Course, where the Central Conference meet will also be held on Oct. 11. This year, the reconfigured Central Conference will consist of Ames, Ankeny, Centennial, Dowling Catholic, Johnston and Urbandale.
Johnston is the two-time defending state champion in Class 4A, but Klingensmith said his team is ready to face all challengers.
"Each of our ladies has demonstrated great commitment to the team either during summer running or during practices this past week, showing their grit and desire to compete at high levels this season," he said.