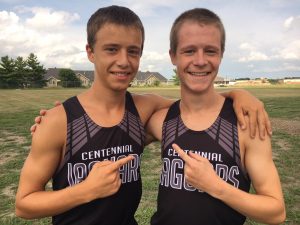 The graduation of Camden Cox leaves a gaping hole in the Ankeny Centennial boys' cross country team's lineup.
Cox was a three-time state qualifier for the Jaguars. As a senior, he placed third in Class 4A with a time of 15 minutes 37 seconds.
Cox took fourth as a junior and finished 26th as a sophomore in 2015, when he led Centennial to a 13th-place finish in its only state-meet appearance as a team under coach Chad Fickbohm.
Cox was also a standout on the track who ended his high school career last spring by winning a state title in the 1,600 at Drake Stadium. He signed a letter of intent with the University of Southern Utah, but is currently on a two-year church mission.
"We are going to take what we learned from last year and move this team forward this season," Fickbohm said. "Certainly, losing Cam and the senior leadership from last season is hard to replace, but our kids are focused on making this team their own. They know we have a different dynamic, and we know it will be a team effort."
The Jaguars placed fourth in last year's district meet at Council Bluffs despite setting a school record team time. They finished just four points behind Sioux City North for the third qualifying spot to the state meet.
However, Cox and teammate Gabe Vicker qualified for state as individuals with top-10 finishes. Vicker went on to place 57th in Class 4A in 16:48.
Vicker, a sophomore, is one of three returning varsity regulars for the Jaguars. His brother, Jonah, is also back along with fellow senior Alex Patkin.
Jonah Vicker placed 16th at the district meet in 16:37. Patkin finished 23rd in 17:03.
"Setting our school record team time and not making it to state as a team hurt, but it is very motivational for the team," Fickbohm said.
There are 60 boys on the roster, the most in program history. The competition for varsity positions has been fierce.
"It's been great because my teammates have been so encouraging and it's like, 'C'mon guys, let's get one more rep in. Let's just do this. We can go a little faster,'" said Gabe Vicker. "Everyone's putting in a lot of effort, and it's just amazing to see our team really trying to rebuild from last year. I really think we can go for a state run this year."
Seniors Ian Luke, Ben Lyons and Nick Sash are among the varsity contenders. Junior Kade VanMeeteren is also in the mix along with several sophomores–Ryan Bybee, Kade Christensen, Connor Cunningham, Blake DePhillips, Nate Jones and Keegan Smith.
"We hope that all of those kids will make an impact," Fickbohm said. "Some of them saw a little varsity action last year. It's really wide open for these kids to step up."
Fickbohm said many of the Centennial runners are already in great shape after working hard in the offseason.
"These kids had a great summer," he said. "We also had the largest turnout for camp this summer."
The Jaguars will open their season by hosting the Centennial Invitational on Tuesday at DMACC, beginning at 5 p.m. Gabe Vicker will try to defend the boys' 9/10 title that he won a year ago.
Fickbohm said the Jaguars will be looking for steady improvement throughout the season, hopefully culminating in the team's second trip to the state meet.
"We are focused on improving as runners and people each and every day," he said. "We know if we hold each other to this and support each other every day, we will have a great season.
"We know we have to do this to put ourselves in a position to get back to state as a team," he added.