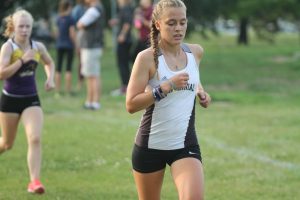 It doesn't appear that there will be any dropoff for the Johnston girls' cross country team.
The top-ranked Dragons, who have won the last two Class 4A state titles, opened their season on Tuesday by winning the Ankeny Centennial Invitational at DMACC. They scored 27 points after combining the results of the two races.
Johnston standout Jessica McKee graduated last spring and is now competing for Iowa, but most of the team's top runners are back. The Dragons posted five of the eight fastest times on Tuesday.
"They definitely pushed me through the race, having to watch their backs and trying to keep up with them," said Centennial junior Jeanne Peters, who led the Jaguars to a fourth-place finish overall.
No. 8 Dowling Catholic placed second in the nine-team field with 48 points. Valley was third with 87 points, followed by Centennial with 92. Ankeny finished eighth with 209 points.
Junior Brooke McKee, Jessica's sister, won the 11/12 race and placed first overall in a time of 18 minutes 58 seconds. Valley sophomore Lauren Schulze won the 9/10 race in 19:17, placing third overall.
Peters placed fifth in the 11/12 race in 19:57. She led the Jaguars to a second-place finish in that division.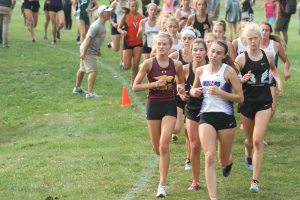 "I met my goal," Peters said. "I wanted to go sub-20 on the first race, and I just barely made it."
Peters didn't try to run with the leaders early in the race. She gradually moved up, however, into the top five.
"I was pretty excited and then the nerves started to get to me, but it ended up pretty well," Peters said.
Four other Jaguars placed in the top 20 of the 11/12 race. Sophia Lee was ninth in 20:17, Jesslyn Gaumer took 17th in 20:32, Morgan Graybill was 19th in 20:37, and Bri Smith finished 20th in 20:40.
Ankeny was led by Fiona Riordan, who placed 24th in 20:56. Cierra Fillinger took 33rd in 21:40, and Lydia Hill finished 36th in 21:57.
Centennial's Kathryn Vortherms placed sixth in the 9/10 race in 20:32. Grace Meador was 14th in 21:12, and Macie Langstraat finished 25th in 21:38.
Megan Bosch took 29th for the Hawkettes in 21:56. Talia Dosh was 34th in 22:38, and Ally Phongsavanh placed 36th in 22:41.