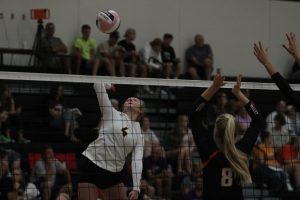 It would have been easy for the Ankeny volleyball team to let up against an overmatched opponent on Tuesday.
But the Hawkettes never did.
Sixth-ranked Ankeny got off to a fast start, kept going strong, and rolled to a 25-5, 25-8, 25-8 victory over visiting Des Moines East in a non-conference match.
"Overall, I think we did a great job of maintaining our level of play," said Ankeny coach Joe Morton, whose team evened its record at 4-4. "Our focus after the first week was to stay disciplined and focused on details, and the girls were excellent in that department."
Morton was especially pleased with the play of his defense. He praised the performances of Kaci Behrens, Karly Weber and Mallory Luther.
"I was overly impressed with Kaci both in her serve receive and defensive ball control," Morton said. "Kaci was also very vocal and instrumental on leading our audible defenses. And speaking of our ball control, both Karly and Mallory were outstanding on serve receive helping propel us past our team goal for passing percentage."
The Hawkettes were coming off the Ankeny Centennial Early Bird Invitational on Saturday, when they went 3-3 and placed second in the consolation bracket.
"We were able to make a statement after suffering a few losses in the first week," Morton said. "Hopefully, this will be the boost we need to finish preparations for another very talented tournament this weekend at Valley."