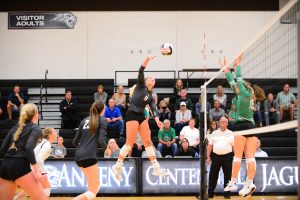 When Ankeny Centennial volleyball coach Jessica Rinehart scheduled a match against one of the nation's top teams, she was simply looking for a way to challenge the Jaguars.
Coming away with a victory was a bonus.
Centennial, the No. 1 team in Class 5A, posted a 25-22, 25-23, 25-15 win over visiting Skutt Catholic of Omaha on Tuesday. Skutt Catholic, the three-time defending Class B champion in Nebraska, is ranked No. 13 nationally.
"We wanted a good competitive match, and we were happy to have that," said Rinehart, whose team improved to 7-1 on the season. "Getting a 'W', and actually coming from behind in that first game to get the 'W', I thought that was a big moment for us that will carry us well through the rest of the season."
Both teams were missing a key player. Centennial's Devyn Robinson and Skutt Catholic's Lindsay Krause are both playing for the USA Volleyball youth national team in the 2018 NORCECA Girls' U18 Continental Championship in Honduras.
"We know we don't have Devyn, but they also have a player who is playing on Devyn's team," said Centennial senior Kenna Sauer. "We knew that they were a really good team. We just wanted to play our game, and that was a good win for us."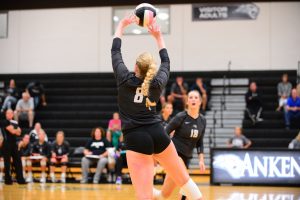 Skutt Catholic jumped out to a 10-3 lead in the first set before Centennial rallied. The Jaguars eventually closed out the set on back-to-back kills by Sauer, who finished with 18 kills.
The second set was tied at 23 before Centennial setter Riley Morgan dumped the ball over the net for a kill. Ari Winters then followed with another kill to give the Jaguars a 2-0 advantage.
Winters served back-to-back aces in the third set to break a 9-9 tie. Sauer later had two more aces to give Centennial a commanding 22-13 lead.
"We really wanted to work on our serves this past week," Sauer said. "We kind of struggled with our serves at our tournament (on Saturday), and we made a list of things we wanted to get better at and that was definitely one of them."
Megan Lively pounded a kill shortly thereafter to close out the match. Both Lively and Rachel Schon had six blocks for the Jaguars.
Rinehart said her team focused on blocking after losing to Cedar Falls on Saturday.
"We wanted to keep our hands high when blocking," she said. "Cedar Falls had a fast offense that we don't see a lot, and I thought we had a hard time keeping up. Tonight, I thought Rachel and Megan particularly did an awesome job of shutting down their middles. Skutt likes to set it to their middles, but Rachel and Megan were all over that."
Winters had 13 kills for the Jaguars, while Morgan dished out 36 assists. Josie Magner racked up 15 digs.
"Our defense was really scrappy," Rinehart said. "It was just a great, quality win for us."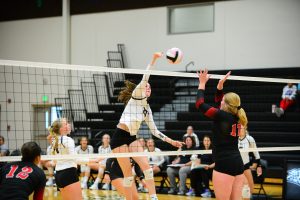 Earlier on Tuesday, Centennial rolled to a 25-12, 25-9, 25-12 victory over Fort Dodge. Sauer and Aby Wood each had 14 kills for the Jaguars.
"We knew we didn't play our best ball (on Saturday)," Sauer said. "We got back in the gym Monday and worked hard and did what we needed to do. Today was a new day, and we played really well."