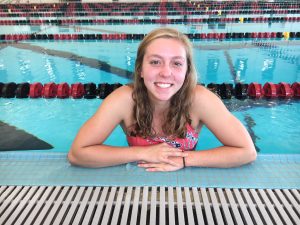 Senior Erin Doruska helped the Ankeny girls' swimming team to a 113-73 victory at Waukee in its season opener on Tuesday. She won the 100 freestyle, placed second in the 200 individual medley and also swam on two winning relays.
Doruska helped lead the Hawkettes to a fourth-place finish in last year's state meet. She swam on the state champion 200 freestyle relay and the third-place 400 freestyle relay.
Here is some inside info on Doruska:
How is the season going thus far?
The season is going very well. We are all learning how we mesh as a team, and the energy as a team is incredible.
Were you happy with your performances at Waukee?
Waukee was a very good first meet. Waukee's girls helped push me and my teammates to be better than we thought we possibly could have been. If you look at our times, almost all of the Ankeny girls–including myself–were faster than we were at our first meet last year, which is exciting.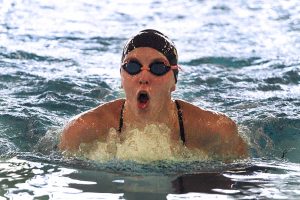 Goals for the season?
Our team wants to have as many state qualifiers as possible with lots of podiums and points scored. Personally, I would like to be better and faster than I have been before.
You placed seventh in the 100 freestyle and ninth in the 200 freestyle at last year's state meet. Do you feel like one of those two events gives you the best chance to win an individual state title?
I want to be able to place as high as I can to score as many points as possible for my team. Both the 100 and 200 freestyle allow me to score points and put me in a position to place highly.
Do you think your team can challenge Ames for the overall state championship?
Ames is a very good team. Not a lot of teams can be consistently a champion for seven out of eight years. This year, teams such as Dowling, Valley and Ankeny can possibly challenge that dominance.
Your teammate, Jasmine Rumley, is the defending state champion in the 50 freestyle. Does that give you a lot of confidence to have the state's fastest sprinter anchoring your freestyle relays?
Jasmine is very talented, but all of our relay members play an important role. If we as the other members of the relay do our jobs, we can put Jasmine in a very good position to finish the race.
Your team has a lot of new swimmers this season. Do you see a lot of potential in the newcomers?
We have 20 freshmen this year, and they bring a new exciting energy to practice and meets. We had some amazing seniors and relay members that graduated last year, and these newcomers will be able to fill those spots.
You are entering your second season of competition at Trail Point Aquatics Center. What is the best thing about the new pool?
The facility itself is beautiful because it is light, bright and has cold water, which makes for fast swimming. But the best part is being able to have a diving team. This helps us in scoring points at dual meets and the state meet.
Plans for next year? Would you like to swim in college?
I would like to swim in college, and I am currently exploring mid-sized private colleges that are out-of-state.
What are you going to study?
I plan on being in the college of business, specifically studying accounting.
Any special plans for Labor Day?
Weather permitting, we have a special outdoor swim practice in the morning.