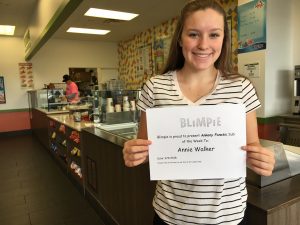 Annie Walker of the Ankeny girls' swimming team is the Ankeny Fanatic Sub of the Week sponsored by Blimpie.
Walker, a sophomore, has helped the third-ranked Hawkettes to a 2-0 record. They have posted lopsided wins over Waukee and Indianola.
"Annie finished last season with impressive times in two very difficult events: the 200 individual medley and the 500 freestyle," said Ankeny coach Michelle Stout. "Both are very strategic and rigorous races. This season I expect her to be able to contribute to the team again in those two events."
Walker and the Hawkettes will host Newton in their home opener on Thursday at Trail Point Aquatics Center.