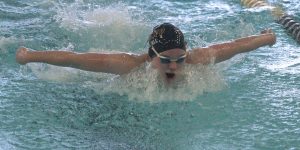 The Ankeny girls' swimming team accomplished a couple of different goals on Tuesday.
The third-ranked Hawkettes not only dominated a non-conference meet at Indianola, but they also posted several times that met the standards to qualify for the 2018 state swimming and diving meet.
Ankeny's Erin Doruska reached the time standard in both the 100 butterfly and 100 backstroke during the Hawkettes' 148-35 victory. Scout Bergwall also met the time standard in the 100 backstroke, while Jasmine Rumley did likewise in the 100 freestyle.
"One of the closest and most exciting races of the night was the 100 backstroke," said Ankeny coach Michelle Stout. "Bergwall, Doruska and Rumley all finished about 1 second apart with several lead changes."
The standard time is the average of the 16th place time (the last scoring position) from the last five IGHSAU state swimming and diving meets in each individual event. Swimmers can qualify for the state meet if this standard is achieved at an official IGHSAU-sanctioned meet in a fully-automatic (FAT) yard pool in the regular season or at the 2018 regional meets.
Stout said many of her swimmers performed well in events that they don't normally compete in.
"As we move through the season, I encourage the girls to step outside of their comfort zones and try events they don't have a lot of experience with," Stout said. "Two of our seniors, Staci Stillmunkes (a strong sprinter) and Emma Tagye (a breaststroke specialist), are great examples of this as they both competed in the 500 freestyle–the longest event in high school swimming. The whole team had a great time watching this race and cheering them on."
Stout was also impressed by some of the team's newcomers.
"Several of the freshmen are also stepping up," she said. "Maddie Carleton and Mia Pearson had great leadoff legs in the 400 freestyle relay, both posting sub minute times of 55's. Maddie is showing extreme versatility for our team, already meeting a state-qualifying time in the 500 free and extremely close to qualifying in the 200 free."
The Hawkettes (2-0) will host Newton in their home opener on Thursday at Trail Point Aquatics Center. The non-conference dual meet begins at 5:30 p.m.