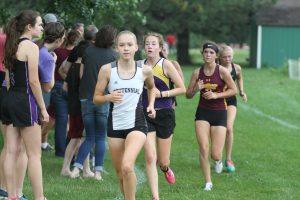 Thursday's Bobcat Invitational provided some huge challenges for both the Ankeny and Ankeny Centennial girls' cross country teams.
The meet featured 23 teams, including many of the top squads in Class 4A. The 5k course at Marshalltown Community College was also tougher than usual due to the soggy conditions.
Tenth-ranked Centennial placed eighth overall with 201 points. Ankeny finished 16th with 421 points.
"I am quite proud of our girls," said Centennial coach Eric Cogdill. "Faced with a state meet preview and lots of mud, they didn't let the field of competitors or the conditions get to them. We finished just five points out of sixth place, and we finished ahead of Iowa City West for the first time in our six-year history. We have to remember it's early in the season and many squads are doing many different things with their training and race strategies, so we can't let ourselves get too high."
No. 1 Johnston won the team title with 50 points and was followed by four other teams from the CIML. No. 2 Waukee was second with 94 points, and No. 14 Southeast Polk took third with 100.
The top four individuals were also from the CIML. Johnston's Brooke McKee won the race in 19:24, edging Peyton Kelderman of Waukee by 1 second.
Centennial's Sophia Lee placed 25th in 20:36. Teammate Jeanne Peters was 26th in 20:39.
Kathryn Vortherms took 35th for the Jaguars in 20:54. Kierstan Fritz placed 51st in 21:18, Morgan Graybill was 64th in 21:33, Macie Langstraat took 88th in 22:28, and Jesslyn Gaumer finished 96th in 22:42.
"Our top three girls continue to be very dependable and are on track to be top-15 finishers at a state-qualifying meet," Cogdill said. "Our big performer of the night was Kierstan, who ran her first varsity race of the season. Our game plan for her was a conservative start in about 90th place and to move up a bit. I anticipated a finish around 75th and told her a very, very good day would result in her finishing around 65th. Again, just an outstanding run."
Ankeny was led by Madeleine Murphy, who placed 58th in 21:25. Fiona Riordan took 80th in 22:01.
Megan Bosch placed 93rd for the Hawkettes in 22:33, finishing just ahead of her sister Sarah, who took 94th in 22:39. Talia Dosh placed 99th in 22:52, Lydia Hill was 100th in 23:00, and Ally Phongsavanh finished 109th in 23:47.
Centennial's Katie Jensen placed fourth in the 9/10 race in 21:56, leading the Jaguars to a third-place finish in that division. She had the team's sixth-fastest time on the day.
"We rested varsity member Grace Meador, who played four soccer games over the weekend," Cogdill said. "We will continue a rotation of resting other varsity athletes in the coming weeks as we look to run our best in late October."