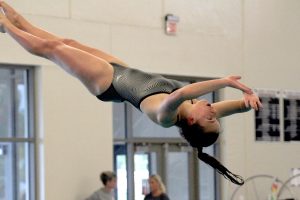 Once the technical issues were resolved, the Ankeny girls' swimming team cruised to another easy victory on Thursday.
The third-ranked Hawkettes rolled past visiting Newton, 138-48, in their home opener at Trail Point Aquatics Center. The non-conference win raised their overall record to 3-0.
The dual meet got off to a late start due to some problems with the timing system. The swimming events were delayed until after the diving competition, which was won by Ankeny's Erica Peters with a score of 220.90 points.
"We tried a couple of computer upgrades," said Ankeny coach Michelle Stout. "It didn't work out so well."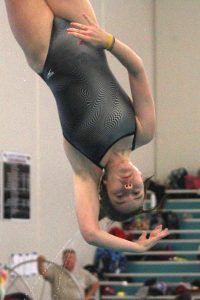 Still, Ankeny went on to dominate the meet, winning 11 of the 12 events. Newton's lone victory came in the 100 breaststroke.
Freshman Alexis Henning had a big night for the Hawkettes. She won both the 200 freestyle (2:03.54) and the 100 backstroke (1:02.67), and she also swam on two winning relays.
"We had some great swims by both the returning and freshman girls," Stout said. "Alexis was outstanding. She's getting stronger with each meet."
Jasmine Rumley swept the sprint events, winning the 50 freestyle in 23.27 and the 100 freestyle in 51.79. Scout Bergwall also won two events, taking the 200 individual medley (2:15.03) and the 100 butterfly (58.10).
"Scout is showing tremendous improvement from one year ago," Stout said. "She's already surpassed her best times from last season in the fly and the IM."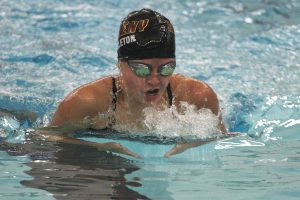 Andrea Rodriguez also won an individual event. She captured the 500 freestyle in 5:20.21.
Ankeny opened the meet with a 1-2 finish in the 200 medley relay. The foursome of Mia Pearson, Katie Brown, Bergwall and Erin Doruska won the event in 1:50.91, edging the Hawkettes' "B" relay by .37 seconds.
Ankeny later won the 200 freestyle relay in 1:38.92. That team consisted of Doruska, Henning, Madison Carleton and Rumley.
"The medley relay and the 200 free relay posted season-best times and are among the highest-ranked in the state," Stout said.
Henning also swam on the 400 freestyle relay. She teamed up with Myah Rozinek, Shea Yuran and Rodriguez to win the event in 3:47.64.