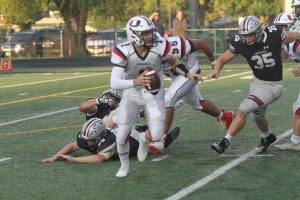 Here are a few questions that will be answered during Week 3 of the high school football season:
1). Which defense will crack first–Cedar Falls' or Ankeny Centennial's? The fourth-ranked Tigers will visit Ankeny on Friday, while the No. 7 Jaguars will travel to Waterloo West. Neither Cedar Falls nor Centennial has allowed a point through two games this season. Look for at least one of the shutout streaks to end on Friday.
2). Can Ankeny get its offense untracked? The Hawks were blanked by Centennial before dropping a 14-9 decision last week at Johnston, the new No. 1 team in Class 4A. Ankeny coach Rick Nelson made a change at quarterback following the Jag-Hawk game, replacing junior Hayes Gibson with sophomore Jase Bauer. Bauer completed 8-of-18 passes for 101 yards and a touchdown against Johnston, but he was also intercepted three times. The Hawks will need to avoid turnovers to have any chance of pulling off an upset.
3). Which Cedar Falls star will have the biggest impact on Friday's game–linebacker Jack Campbell or receiver Logan Wolf? Campbell, an Iowa recruit, leads the Tigers with 16.5 tackles. Wolf, who is headed to Northern Iowa to play basketball and football, has already racked up nine catches for 232 yards and five touchdowns. Keeping Wolf out of the end zone will be a huge challenge for the Ankeny defense, which held Johnston to just 134 total yards.
4). Can Waterloo West, which is 2-0 and coming off a 34-0 victory over Mason City, slow down Centennial's stable of talented running backs? Gabe Godwin leads the Jaguars with 172 yards rushing on 29 carries, while Tyler Cahill has rushed for 131. Junior Avery Gates was the star in the win over Ankeny, rushing for 115 yards and three touchdowns. The Wahawks might be able to stop one or two of the backs, but can they contain all three of them?
5) Will Centennial's Jackson Huber pick off another pass? Huber had an interception in each of the first two games, and he will likely have a few chances to get another one on Friday. Waterloo West quarterback Carter Maske has completed 20-of-33 passes for 261 yards and one touchdown this season. Because Centennial's defense has been so stingy against the run, look for the Wahawks to try to move the ball through the air. And that could play right into Huber's hands.