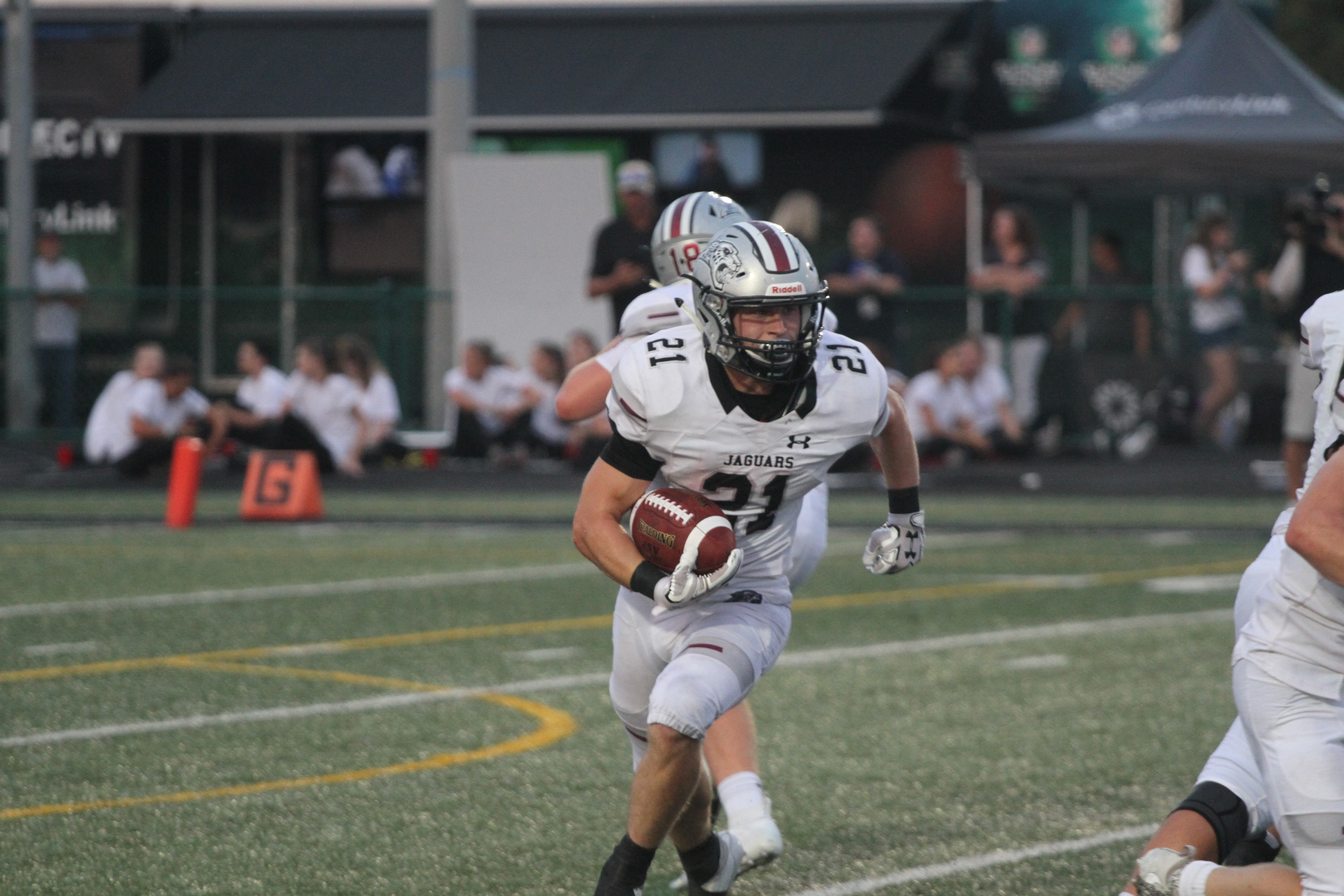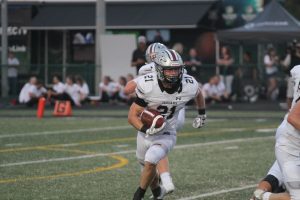 The Ankeny Centennial football team will always be known for its potent rushing attack.
But on Friday night at Waterloo's Memorial Stadium, the seventh-ranked Jaguars showed off a dangerous passing game as well.
Quarterback Garret Severseike threw for 90 yards and a pair of touchdowns, both of them to senior tight end Ben Breeding, as Centennial rolled to a 49-7 victory in a battle of undefeated teams.
"We really hadn't thrown it much in our first two games, because the situation never really presented itself," said Centennial co-head coach Ryan Pezzetti. "But we thought we'd have a chance to do that (Friday), and we've got some good receivers–including a three-year starter at tight end. We wanted to make sure that was an emphasis on what we were doing. I think our protection was good, and we completed all but one or two of our passes. And it set up the running game as well."
The Jaguars racked up 417 rushing yards while improving to 3-0 on the season. Avery Gates led the way with 201 yards on 13 carries.
Gates opened the scoring with a 71-yard touchdown run on Centennial's first play from scrimmage. He later found the end zone again on a 30-yard run.
"The kids played great," Pezzetti said. "We came out to play. We knew it was going to be a tough game for us. We've never played Waterloo West before, but we knew they had some good athletes. They were 2-0 and had two nice wins going into the game, but we got off to a good start."
The Wahawks (2-1) answered Gates' first touchdown with one of their own. Carter Maske fired a 38-yard scoring pass to Tanner Pollock on third-and-8 to tie the game.
It was the first touchdown allowed by the Centennial defense this season.
"Obviously, those kids wanted to keep that streak going as long as they could," Pezzetti said. "(West) did hit some passes on us, but our kids responded and shut them out the rest of the game."
Maske finished with 161 yards passing on 17 completions, but the Wahawks were unable to keep up with Centennial. The Jaguars never had to punt the ball.
"It's hard to simulate in practice," West coach Lonnie Moore told the Waterloo Courier, referring to the Jaguars' offense. "They do a good job faking. On the sidelines a lot of times I didn't know who had the ball myself. Up front, they really fight off the ball. They've got some big linemen up there, and they really get off the ball and dominated the line of scrimmage."
Centennial regained the lead on a 5-yard scoring pass from Severseike to Breeding. Those two later connected again on a 51-yard touchdown pass with 10 seconds left until halftime.
"Our kids just took the game over, and it was a good win for us," Pezzetti said.
Tyler Cahill, Eric Kremer and Keaton Gray also had touchdown runs for Centennial, which will now prepare for Friday's showdown against Dowling Catholic at Valley Stadium. The five-time defending state champion Maroons bounced back from a loss to Valley with a 27-0 victory over No. 1 Johnston on Friday.
"They're one of the top two or three teams in the state," Pezzetti said. "We're going to have our hands full."