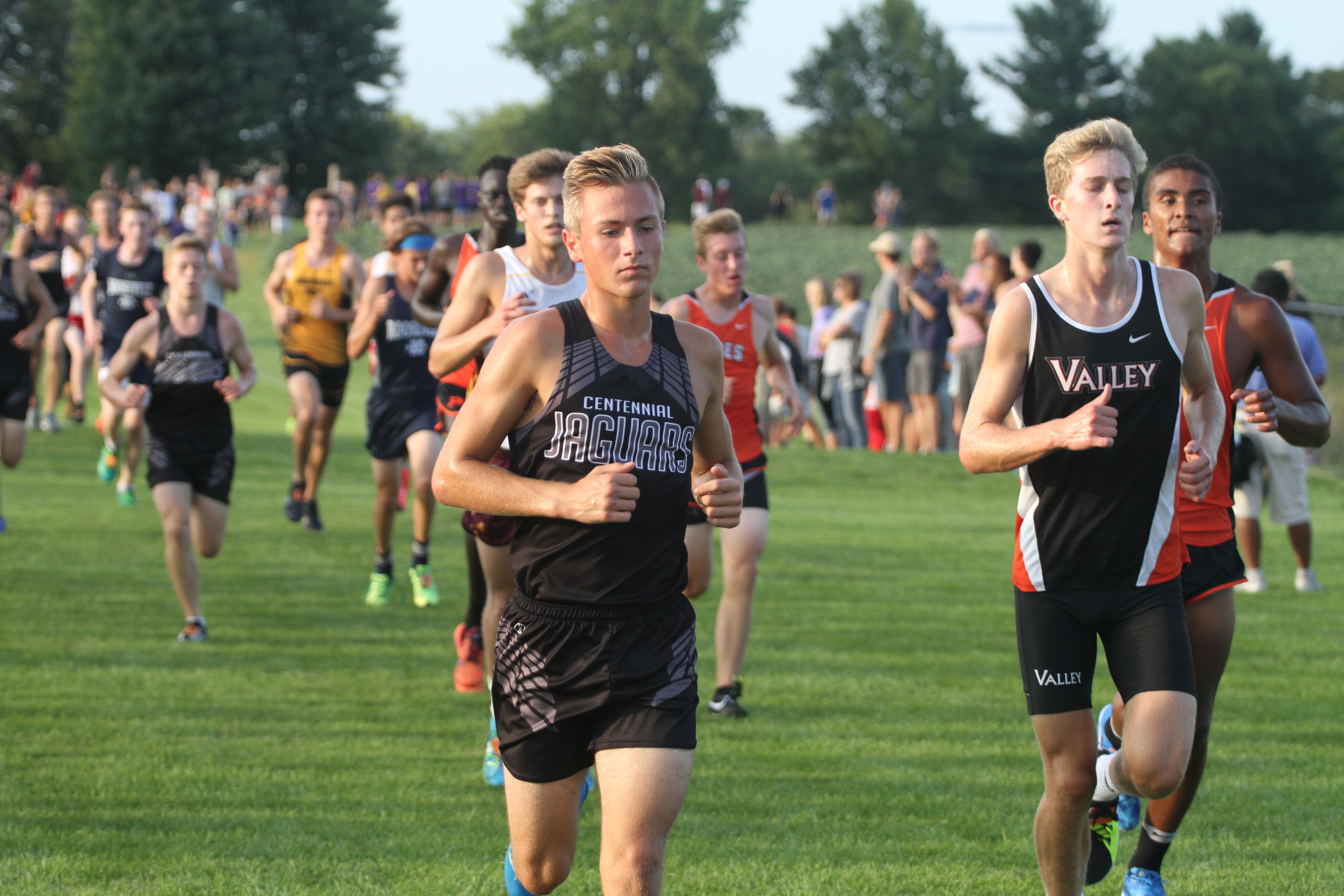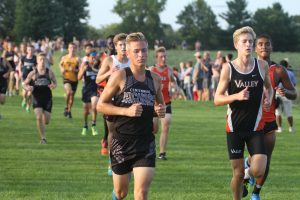 Gabriel Vicker and the Ankeny Centennial boys' cross country team turned in another strong performance in the Tom Karpan Invitational on Tuesday.
The Centennial girls' squad also ran well on the 5k course at Valley Southwoods Freshman High School.
The Jaguars placed second among 17 teams in the boys' division. They finished fourth in the 13-team field in the girls' division.
"In the end, the meet placed according to form," said Centennial girls' coach Eric Cogdill. "We finished behind three teams ranked ahead of us and protected our place against some unranked 4A schools and some quality 3A schools."
Vicker earned his third victory in four meets this season, winning the boys' race in a time of 16 minutes 45 seconds. Drake Hanson of Southeast Polk was the runner-up in 16:54.
Vicker's brother, Jonah, also earned a top-10 finish. He placed seventh in 17:19.
Ninth-ranked Valley won the boys' team title with 51 points. No. 8 Centennial was second with 83, edging No. 13 Ames by one point.
No. 1 Johnston easily captured the girls' crown with 43 points. No. 6 Valley took second with 63, followed by No. 2 Waukee with 82 and No. 9 Centennial with 123.
Cogdill said the race did not go according to plan for the Jaguars.
"Our JV girls lit up the course, and typically when that happens the varsity follows suit," he said. "Instead, I think I got the girls overconfident before the race, citing the previous fact. We were in trouble from the beginning as opposing teams blew us away off the start line. We didn't recover on the narrow, crowded course and our top girl was in roughly 40th place at the half-mile (mark). The girls pressed hard through the next mile to try to make up for lost ground and improved some, but it made for a challenging race as their racing plan fell apart."
Jeanne Peters led Centennial with a seventh-place finish, posting a time of 20:54. Kierstan Fritz took 25th in 21:50.
"Jeanne ran very nicely, and Kierstan looked very strong as our second Jaguar," Cogdill said.
Centennial's Kathryn Vortherms placed 28th in 21:56. Grace Meador took 31st in 22:01, Brianna Smith was 32nd in 22:03, Katie Jensen placed 38th in 22:19, and Kendall Jorgensen finished 43rd in 22:32.
Camille Jackson of Ames won the girls' race in 19:47. She finished 38 seconds ahead of runner-up Helen Gould of Valley.
"The girls took some lessons from the race, which include maintaining positive mindset and listening to internal feedback more than the external feedback that opponents can create," Cogdill said.
In the boys' race, Centennial's Connor Cunningham placed 20th in 17:40. Nate Jones took 27th in 17:46, Ian Luke was 28th in 17:47, Kade Christensen placed 47th in 18:14, and Kade Van Meeteren finished 106th in 19:48.
The Jaguars won the girls' JV division with 30 points. Jennifer Jordan won the race in 22:21, finishing 14 seconds ahead of teammate Sara Camargo.