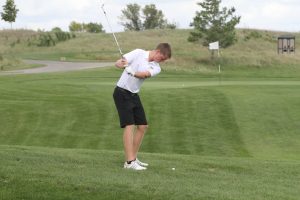 For the second year in a row, the Ankeny Centennial boys' golf team shot a 153 during a dual meet against crosstown rival Ankeny at Otter Creek Golf Course.
Last year, the Jaguars suffered a one-stroke loss.
On Thursday, Centennial's score was good enough to produce a two-shot victory as the Hawks finished with a 155 total on their home course.
"I'm really proud of the way the boys played," said Centennial coach Rick Fee. "It was nice to get a 'W', especially when you play the city rival."
The Jaguars finished with a 3-2 record in the CIML Central Conference. Ankeny dropped to 1-3 with one dual meet remaining.
"It was a great effort from the boys, but we just fell a bit short," said Ankeny coach Mike Weddingfeld. "I'm not placing blame anywhere, but looking at the four scores that we counted, we had two double bogeys and that was the difference. We're still working to limit our mistakes."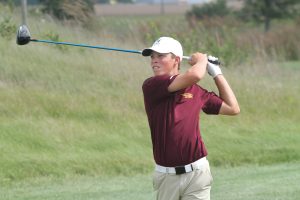 Ankeny sophomore Hunter Johnson didn't make many mistakes. He carded a 2-under-par 34 to earn medalist honors.
"Me and my dad and coach Weddingfeld spent some extra time on the range (Wednesday) night," Johnson said. "We fixed some minor things, and I am striping it again. I also worked on getting my putts starting on line. I played well, and it's good knowing I left a shot or two out there still."
Johnson birdied the par-4 No. 2 hole, the par-3 No. 6 and the par-4 No. 9. His lone bogey came on No. 5.
"Hunter played a great nine holes of golf," Weddingfeld said.
Johnson played in the same group with Centennial's Russell Rydin. Rydin shot an even-par 36 to earn runner-up honors.
"My short game was working," said Rydin. "Hunter did have a great round and it's a very friendly competition between us where we both want to beat each other, but we are also glad when the other does well."
Rydin needed only 12 putts to complete his round.
"Russ has been steady all year," Fee said. "I'm really looking for him to continue his good play and leading of the team."
Rydin fired a 41 in last year's dual, which marked Ankeny's first-ever win against the Jaguars.
"There were thoughts about last year, but mostly we were thinking about the round ahead," Rydin said.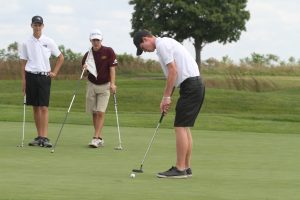 Centennial's Drake Ellgren shot a 37, Brian Kolpek had a 39, and Eric Ossian carded a 41. Kaleb Faas and Chris McAleer each finished with a 46.
"Brian and Drake also posted good scores that allowed us to squeeze out the win," Fee said.
Ty Roghair fired a 39 for the Hawks that included a birdie on the par-5 No. 3 hole. Thomas Nygren shot a 40, Dylan Taylor had a 42, Joey Newton carded a 46, and Luke Parkinson added a 47.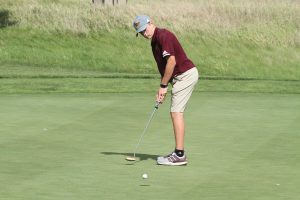 "Unfortunately for us, our top two guys on JV shot 36 and 40. Had we been able to use those scores, we win by three," Weddingfeld said. "We all know that we have several guys capable of shooting 36 to 39. We just need to all do it on the same day."
Johnson said his individual round was bittersweet.
"Winning is great, but I want team titles over individual goals," he said. "Our team is getting better, and we are helping each other. And I am really happy for Corbin Walker shooting even today."