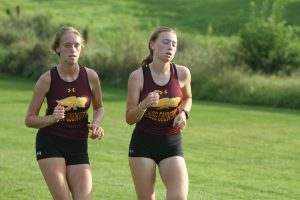 Sophomore Madeleine Murphy continues to set the pace for the Ankeny girls' cross country team.
Murphy placed 32nd in the Rich Engel Classic on Thursday at Birdsall Park in Cedar Falls, leading the Hawkettes to an eighth-place finish in the 19-team field. She posted a time of 21 minutes 31 seconds in the 5k race.
Murphy has been Ankeny's top finisher at each of the last three meets. She did not run in the season-opening Ankeny Centennial Invitational on Aug. 21.
Murphy was followed closely by teammate Fiona Riordan, who placed 43rd in 21:58.
"Our No. 1 and 2 runners continue to push each other throughout the race as they battle together for the first mile or so, then take off with individual strategies," said Ankeny coach Eric Klingensmith. "Both girls posted great times and ran tough, strategic races with only 10 runners separating the two."
Third-ranked Dubuque Senior easily defended its team title, placing three runners in the top four and finishing with 43 points. Claire Edmondson won the race in 18:54.
No. 13 Urbandale placed second with 121 points, edging No. 15 Dubuque Hempstead by five points. Ankeny finished with 234 points.
"During the course of our season, we have focused much of our attention to practicing and performing with 'Above the Line' behavior," Klingensmith said. "Simply stated, this behavior consists of maintaining a positive outlook and attitude in any given situation. We consistently encourage the development of positive views of the ladies' races, strategies and adaptations. In Cedar Falls, our Hawkettes exceeded expectations through their commitment to racing 'Above the Line'. With our 9/10 racers placing third overall, the JV placing second in a tiebreaker and the varsity placing eighth in a tough field, their performances were astonishing."
Megan Bosch placed 55th for the Hawkettes in 22:27. Cierra Fillinger was 56th in 22:30, Lauren Clark took 58th in 22:31, Lydia Hill was 65th in 22:41, and Talia Dosh finished 68th in 22:46.
"Our second pack of runners came in with little separation," Klingensmith said. "The pack mentality our team is developing by trusting one another and gathering strength together continues to build as the season progresses. We are proud of all the performances and the growth they've displayed in each race."
The No. 5 Ankeny boys' team, meanwhile, placed 14th among 18 teams with 354 points. The Hawks rested their varsity lineup for Saturday's Heartland Invitational at Central College.
Jaden Schuster placed 47th in 18:26 to lead Ankeny. Andrew Poock was 61st in 18:40, Carter Smith took 88th in 19:04, Paul Erredge was 89th in 19:10, Dustin Kutz placed 98th in 19:20, Mitch Pevestorf was 107th in 19:31, and Christian Rathje finished 109th in 19:39.
Brandon Conrad of Cedar Falls won the race in 16:22. Payton Marrs of Urbandale was the runner-up in 16:24.
No. 10 Cedar Falls claimed the team title with 60 points. No. 11 Cedar Rapids Kennedy was second with 118.