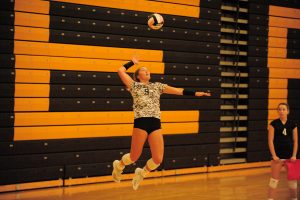 The Ankeny Centennial volleyball team entered Thursday's non-conference match at Des Moines Roosevelt on a long winning streak.
The Roughriders, meanwhile, were looking to end a losing skid.
Both streaks are still intact.
The second-ranked Jaguars rolled to a 25-14, 25-13, 25-19 victory for their 16th consecutive win. They are now 21-1 on the season, while Roosevelt dropped to 6-12 with its sixth straight loss.
"We tried a couple different lineups, and it was good to see people in different positions," said Centennial coach Jessica Rinehart. "We had some really good moments and showed good composure throughout the match."
Kenna Sauer led the way for Centennial. She had 11 kills and committed just one hitting error in 21 total attacks while posting a .476 hitting percentage.
Sauer also racked up 10 digs and completed 18-of-20 serves with three aces.
"It was a really good win for us," Sauer said. "We're still trying to find that flow with Devyn (Robinson) coming back, and I think this match was a step forward. We've got work to do, but it's looking great and we're excited for where it's going to take us. We've got better ball in us, so right now the goal is channeling that and being the best we can be by November."
Robinson had 10 kills in the win, while Ari Winters added nine kills and three blocks. The Jaguars hit .365 as a team.
Setter Riley Morgan dished out 31 assists and also contributed six kills. Josie Magner had nine digs, and Aby Wood added three blocks despite playing in just one set.
"I'm really proud of our players and the way they play the game," Rinehart said.
Centennial will be back in action on Tuesday, when it hosts a CIML Central Conference match against Ames.