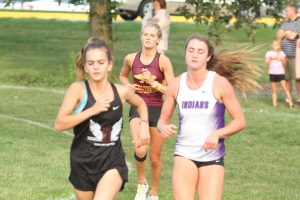 Jesslyn Gaumer is one of only two seniors on the varsity for the Ankeny Centennial girls' cross country team, while junior Fiona Riordan is one of the top runners for crosstown rival Ankeny.
Gaumer has helped Centennial to a No. 9 ranking in Class 4A. She placed 19th in the Ames Invitational on Aug. 30 with a time of 21 minutes 31 seconds, helping the Jaguars to a runner-up finish.
Riordan posted a season-best time of 20:56 at the Centennial Invitational on Aug. 21. She placed 24th for the Hawkettes in the 11/12 division.
Here is some inside info on the duo:
How is the season going thus far?
Gaumer: This season has been going well for us as a team. I'm so proud of our team effort. Individually, I had a very strong start to the season. However, my last couple races have been rough. I'm looking to bounce back from them and have a strong finish to my high school career.
Riordan: This season has been one to remember. The coaches for our team this year have given it their all to make Ankeny cross country the best it can be. Every member of our team has put so much work into this year. I am proud of what I have been able to accomplish and what our whole team has been able to accomplish this year. We have a very supportive team atmosphere–each member helps to push one another along. I am very excited to see what the rest of the season will bring.
What has been the highlight for you?
Gaumer: My highlight so far has been the Ames meet. Coach Cogdill promised the team that if the JV runners placed second or higher as a team and the varsity runners placed third or higher we would go out to Hickory Park. We accomplished our goal and celebrated with ice cream!
Riordan: This cross country season has been probably one of the best yet. A couple of the upperclassmen worked really hard over the summer to create a positive and fun environment for everyone to be a part of. We made it our goal to befriend all of our new teammates and get to know one another. We came up with different outings and activities where the whole team was included. Our team has had multiple opportunities to bond with one another so far, and we still have more planned. I believe that coach Klingensmith could not have picked a better motto for our team this year: "One team. One family." I truly believe that each and every girl on this team has been positively affected this season. They have all become a very important part of my life, and I am extremely happy to be able to call them my second family.
You both competed in the Bobcat Invitational on Sept. 6 at Marshalltown, where the race was held on a muddy course after several days of rain. Were those conditions pretty difficult to deal with?
Gaumer: The conditions were difficult to run in. The key to running on a muddy course like Marshalltown is to focus on place rather than time. Overall, the team had fun competing at Marshalltown and embraced the challange of running in muddy conditions.
Riordan: The mud did make the course very difficult. We had a couple girls on our team who slipped and fell during their race. Although the terrain made it a tougher challenge, sometimes running in the mud adds an element of fun. It did make me realize though that I needed to go out and buy a new pair of spikes.
Jesslyn, have you tried to be a leader for the team?
Gaumer: One of my main goals this season has been to provide leadership to the team. We have a leadership commitee that I've been part of for three years now, which consists of athletes from all four classes and all team running groups. It has done a great job leading and planning activities. The other seniors have also done a great job stepping into leadership roles.
Fiona, you have improved tremendously since last season. To what do you attribute your success?
Riordan: This summer, I developed a much deeper passion for my running. I was up bright and early every morning to go out for either a long run or one of coach Klingensmith's "getting better days". I became very determined this year to push myself to the best of my abilities, since in previous seasons I have had a knee and foot injury.
Goals for the rest of the season?
Gaumer: As a team I would love to achieve our highest ever finish at state this year. With the amount of depth and talent we have, I believe we can achieve this. Individually, I would like to end my senior year strong and run at the state meet.
Riordan: I would love for our whole team to qualify for state this year. It would be a great experience. Until then, I just hope to continue shaving time and improving my overall running strategy.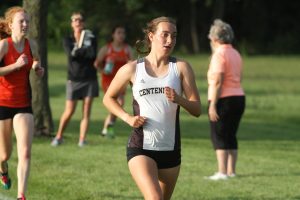 Jesslyn, you have two older brothers who were also successful athletes, primarily in swimming. Did you learn a lot from watching them compete when you were younger?
Gaumer: I definitely learned a lot from watching and competing with my brothers in and out of the pool. It was especially cool to see my oldest brother, Peyton, break the Dowling school record and place third in the state in the 100 breaststroke. He is one of the most driven people I know and is constantly a big inspiration to set high standards for myself. Ryan has taught me the importance of not defining myself as simply an athlete, but to be a good person and have other interests, too. He defines himself as more than an athlete.
I know you have also competed in swimming and have done several triathlons. Did you consider trying to compete for the swim team as well this fall?
Gaumer: My freshman year I actually did compete on both the cross country and swim teams in order to train for triathlons. It was very difficult to balance both sports and school work. After that, I decided to focus on my true passion of running. I love the sport of triathlons and foresee myself competing in future triathlons. And I'm still cheering for all my swimming friends and former Aquahawks teammates. They're having an awesome season.
Fiona, your two older brothers both excelled on the basketball court for Ankeny. Do you play basketball too?
Riordan: I joined my first basketball team in third grade and played all the way through my freshman year of high school. I had always used basketball as a way to stay in shape and also as a fun way to bond with my two brothers. During my sophomore year of high school though, I realized that I had a much larger passion for running, so instead I decided to use winter to dedicate myself to training for spring track. Although I do miss playing, I think it has benefited me and allowed me more time to train for what I really love. Although the holes in our basement walls, from a little too competitive games from our younger years of playing, have been patched, we still find time for our mini sibling tournaments in our driveway.
What did you learn from watching them compete when you were younger?
Riordan: I really truly believe that nobody could have better role models. Conor and Deaglan have had such a large impact on who I am today. The love and passion they show on the court and at home is amazing. The positive attitude and pride they carry has been obvious for as long as I can remember. They have taught me to always push myself to the best of my ability and never give up even when I think I can no longer go on. They showed me how important it is to have a positive attitude even if it may not be a good day, because that attitude is contagious and spreads to the entire team. They also showed me how important it is to encourage others and not be too hard on myself. Most importantly my family has always said, "play hard, have fun, and let His light shine," before every game or race we have. This is our reminder to each other that having fun is a key component in what you do, and a positive way to remind us that God works through us. And although they both are away at college now, I still receive race day encouraging and motivational messages and even sometimes videos from them both.
What do you enjoy about running?
Gaumer: What I love most about running is the people surrounding me. I have been blessed with the best teammates, who I know will be with me through the ups and downs. They mean the world to me and I know I will miss all of them when I graduate.
Riordan: I have claimed running as my favorite sport since fourth grade. I have always loved it, and it was just another thing for my dad and me to bond over. One of my favorite feelings is a "runner's high". It's the feeling I get when I go out for a long run and I totally zone everything out and I just hear the peacefulness of my footsteps and and the calmness of my breathing and world around me. But the best thing about running is all the friendships I've made over the years. Everyone has helped to push me through all the mental roadblocks you get from running, which has carried over to my everyday life. The friendships I have made with my teammates are truly amazing and I am beyond grateful for every girl who has joined cross country.
Jesslyn, I understand you're going to run in the Goofy Marathon at Disney in January. What inspired you to do that?
Gaumer: The Goofy is actually a half marathon on Saturday, followed by the full marathon on Sunday – 39.3 miles of running through the Magic Kingdom. You have to be "Goofy" to run that much in two days. My dad came up with the idea. He knew how much I love running, and wanted to find something memorable for us to do together before I left for college next year. He was training for it when he had his heart attack in January. The doctors patched up his heart bypass with a titanium plate so his sternum could withstand the running, and they told him he could start training, again, three months after his surgery in May. He's up to training over 25 miles a week to get ready for the challenge. And I can't complain about mom and dad taking me to run in Florida in January, instead of running in the cold here in Iowa.
Fiona, do you have any aspirations to run a marathon in the future?
Riordan: In these past two years, I have participated in two half-marathons. In a couple years, with some extra training, I would love to say I completed a full marathon. As crazy as it may sound, I think running 26.2 miles would be a fun and exciting experience!
Would either of you like to run in college?
Gaumer: I would love to run in college, although I am unsure as to where yet. My primary focus is on finding a school that is a great academic fit.
Riordan: I am not quite sure what I plan to do in my future yet, but I have for sure considered running in college. I think it would be a great experience and a great way to meet new people and stay in shape.
What are you going to study?
Gaumer: I plan on majoring in Kinesiology with a minor in Spanish.
Riordan: Although I do not know exactly what I want to study yet, I think it will be something along the mathematical side. I am planning on starting the process of looking at different colleges and opportunities this year. I am looking forward to doing college visits soon!