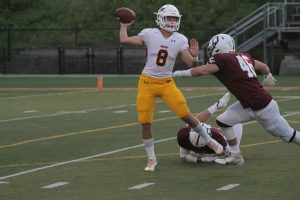 This probably wasn't the best time for the Ankeny football team to face five-time defending Class 4A state champion Dowling Catholic.
Just one week after fifth-ranked Dowling dropped a 14-7 decision to Ankeny Centennial, the Maroons bounced back on Friday with a 42-0 victory over Ankeny at Valley Stadium. It was the District 1 opener for both teams.
While Dowling improved its overall record to 3-2, the Hawks fell to 1-4 and are now in danger of being mathematically eliminated from playoff contention. They were ranked 33rd among the 42 teams in the Class 4A Ratings Percentage Index prior to Friday's loss, and they will likely have to win out in order to have any chance of landing one of the 16 playoff berths.
Dowling quarterback Zach Watters ran for three touchdowns and passed for another as the Maroons built a 28-0 halftime lead. He threw a 27-yard strike to Jack Lyman less than 3 minutes into the game to put his team ahead for good.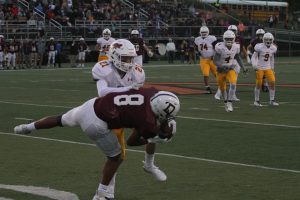 On Dowling's next possession, the Maroons needed just two plays to go 69 yards for another score. Watters connected with Lyman for a 40-yard pass, then dashed 29 yards to the end zone to make it 14-0 with 6:33 left in the first quarter.
Ankeny then responded with its best drive of the game. The Hawks twice converted on fourth down to keep the drive alive–Jase Bauer connected with Grant Moeller on an 11-yard pass to pick up one first down, then ran 3 yards to the Dowling 12 to again move the chains.
However, the 14-play possession eventually ended with a turnover on downs at the Maroons' 11.
After forcing a punt, Ankeny had another golden opportunity when Cooper Cox blocked the ensuing kick. The Hawks took over at the Dowling 5 early in the second quarter.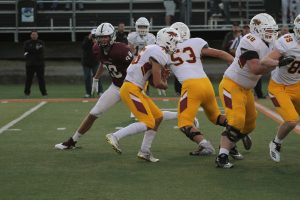 Ankeny gained just 1 yard on three running plays, but a defensive pass interference penalty on fourth-and-goal moved the ball to the Maroons' 2. The Hawks again went for the touchdown, but Cael Boyd was stopped a yard shy of the goal line.
Dowling's Jayson Murray then broke loose for back-to-back runs of 54 and 35 yards, setting up a 1-yard touchdown sneak by Watters three plays later. Murray rushed for 144 yards on 14 carries in the first half.
The Maroons later drove 56 yards in seven plays to take a 28-0 lead on Watters' 7-yard run with 3:15 left until halftime. Murray did most of the work on the drive, rushing five times for 50 yards.