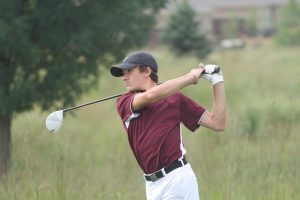 The Ankeny boys' golf team made only one birdie on Friday during a dual meet against Johnston at Jester Park.
It resulted in a 157-168 loss to the Dragons.
"We just aren't playing our best golf right now, and I am not sure why," said Ankeny coach Mike Weddingfeld, whose team finished with a 1-4 record in the CIML Central Conference. "We are in the peak of our season so we should also be playing our best golf. We have been playing a lot this week and not getting much time to practice so hopefully the boys are taking advantage of the good weather this weekend and getting out and working out a few kinks they have with their games so we can play well at home on Monday (for the Ankeny Invitational) and for the conference meet on Tuesday."
Johnston's Nick Pittman carded an even-par 36 to earn medalist honors. Teammate Jarred Bowser was the runner-up with a 38.
Hunter Johnson and Thomas Nygren each shot a 41 to lead the Hawks. Corbin Walker had a birdie on the par-4, No. 3 hole en route to a 42.
Dylan Taylor had Ankeny's fourth scoring round, posting a 44. Luke Parkinson had a 45, and Ty Roghair finished with a 51.
"I hope the nice weather holds as we really need a few days later this coming week to just practice," Weddingfeld said.