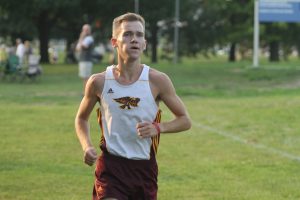 Ankeny's Tim Sindt proved once again on Saturday that the state's all-time 5k record is well within his striking distance.
Another Ankeny runner, Fiona Riordan, also turned in a spectacular performance at the Rim Rock Farm Country Classic.
Both athletes led their respective cross country teams to top-10 finishes in the prestigious meet at Lawrence, Kan.
Sindt won the boys' race in a time of 15 minutes 10.7 seconds, which broke the course record and lowered his own school record. He finished 7 seconds ahead of Dylan Schubert of Thompson Valley (Kan.).
It was by far the closest race of the season for Sindt, the defending Class 4A state champion.
"I was in third through the first mile and I took the lead by about 25 meters toward the beginning of the second mile and didn't see anyone else again in the race," Sindt said.
Sindt's previous PR was a time of 15:13, which came at last year's Fort Dodge Invitational. He ran 15:27 at the Ankeny Centennial Invitational last month, one of his four victories this season.
"With this being one of the most competitive meets in the country, it is quite an honor to not only be the meet champion, but also the new course record holder," Ankeny coach Jon Lindaman said of Sindt. "Although it was a fine race for Tim, we still need to clean up his last 1k to get him below the 15:00 mark which is a big goal of his. He has run in poor conditions, or very challenging courses this year, so I am very excited to see what he can do on Fort Dodge's fast, flat course in a couple weeks."
The senior is looking to break the state's all-time record of 15:02.
"Rim Rock is a really tough course, and I cruised in my last 1,000 meters so I am very confident that I can set the state record in Iowa this year," Sindt said.
Riordan, meanwhile, placed 22nd in the girls' race in a field of 279 runners. She posted a time of 20:18.9, a drop of nearly 40 seconds for the junior.
"I was surprised when I crossed the finish line and saw my time, but I think our team came to this race very prepared and well trained for the challenges this course had," Riordan said. "Every single girl on our JV team got a PR and was very encouraging during the varsity girls' warmup. This helped calm our nerves about the race. Every single one of us had a great race at Rim Rock, and with all of the hard work we have all put in this season, it was well deserved."
The Ankeny boys' team placed seventh in the Gold Division with 339 points. A total of 42 teams competed.
Legend High School won the team title with 171 points. Rockhurst was second with 182.
Aiden McCombs placed 60th for the Hawks in 16:39. Jalen Elwell took 66th in 16:41, Joey Reichenbacker was 80th in 16:50, Cael Cox took 162nd in 17:29, Drake Strnad was 236th in 18:09, and Jaden Schuster finished 252nd in 18:25.
"The guys stepped up and competed really well," Lindaman said. "Our training has been going very well, and they are getting better and better each time they go out and race. To put it in perspective, we were 23rd out of 42 (teams) last year, and improved to seventh of 42 this year…and the Gold race has some of the best competition in the Midwest. We were racing teams from Denver, St. Louis, Kansas City and Omaha, so we were pretty proud of a seventh-place finish. We are certainly not where we want to be yet, but it was a very solid outing for a mid-season race.
"Our guys are gaining a lot of confidence each week, learning to race as a team. We are really looking forward to the championship part of the season," he added.
The Ankeny girls' squad placed 10th among 39 teams. The Hawkettes finished with 349 points.
"This was a meet which opened our potential. Every single one of our Hawkettes was physically and mentally prepared for this race, and it showed throughout the entire race," said Ankeny coach Eric Klingensmith. "Riordan had a phenomenal race where she broke through the 21-minute barrier. Following her lead, (Madeleine) Murphy barely missed crashing through the 21 barrier, but will do so soon. In fact, each of our top five runners finished under 22 minutes, showing the untapped potential we have. Our goal is to continue this progress in hopes of peaking in four weeks."
Murphy placed 55th for the Hawkettes in 21:01. Megan Bosch took 81st in 21:19, Sarah Bosch was 97th in 21:32, Lauren Clark placed 119th in 21:46, Lydia Hill was 171st in 22:24, and Talia Dosh finished 190th in 22:35.
"The temperature in Kansas this weekend could not have been better. It was perfect running weather!" Riordan said. "I think it was one of the factors that helped to put all of our girls in an upbeat, positive mood. It was a nice change for some of our girls who have run there previously, when the weather was extremely hot."
Goddard Eisenhower won the girls' crown with 157 points. Bishop Kelley was second with 171.
Alexis Barber of Ozark won the race in 18:50. She finished 13 seconds ahead of teammate and twin sister Brocklyn Barber.