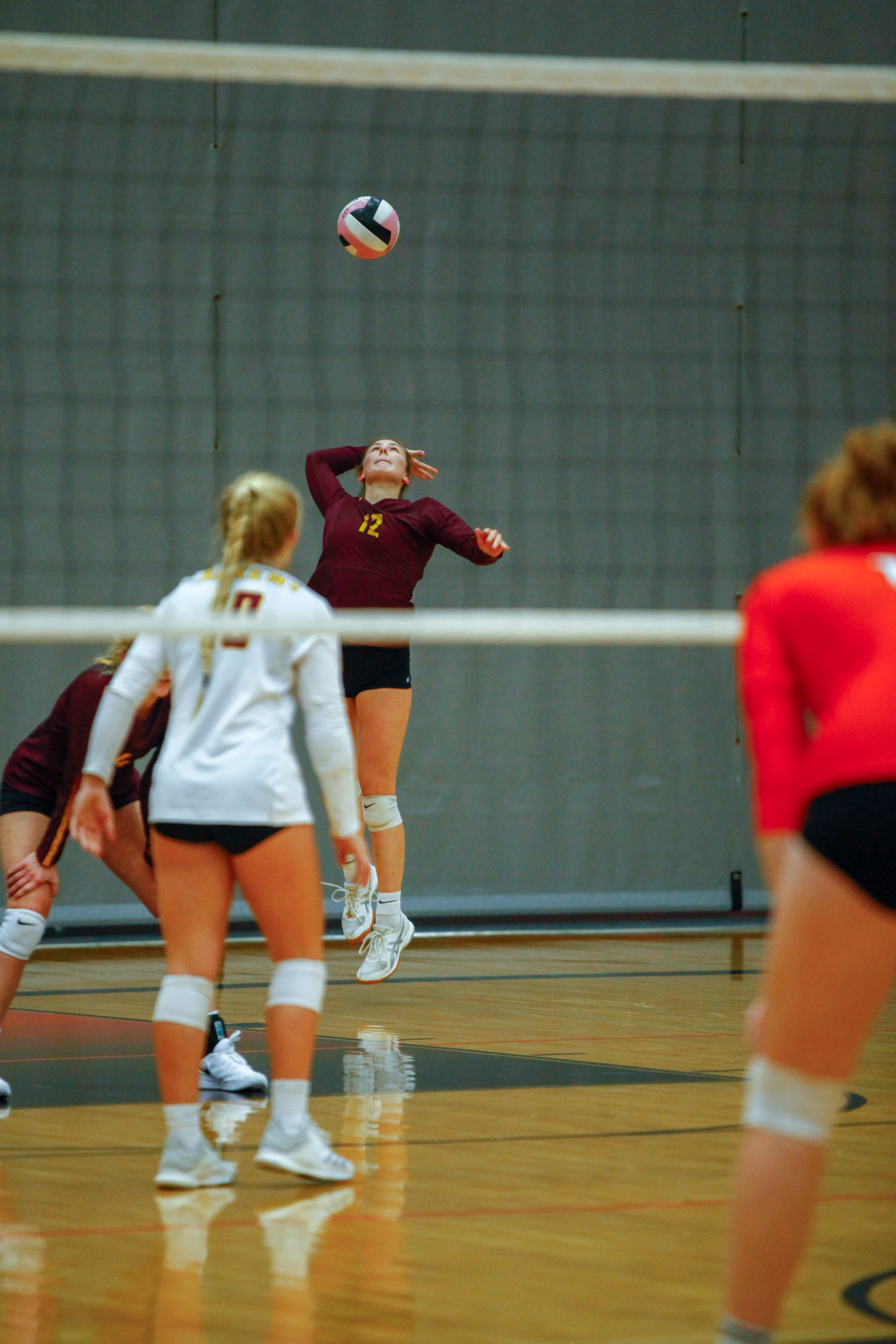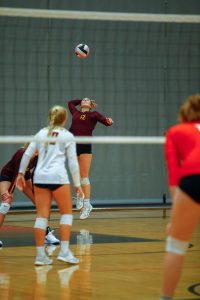 Isabelle Vacek and the Ankeny volleyball team didn't get caught looking ahead on Tuesday.
Vacek pounded 11 kills to lead the sixth-ranked Hawkettes to a 25-21, 25-17, 25-14 victory at No. 11 Ames. The win sets up a showdown against No. 2 Ankeny Centennial for the CIML Central Conference title on Oct. 2.
"We were happy to walk away with a sweep–the entire program (freshmen through varsity) was able to get a sweep as well," said Ankeny coach Joe Morton, whose team improved to 3-0 in the league and 23-10 overall. "We have been able to get some solid Tuesday nights as a program the past couple weeks and feel good about the remainder of the season."
It was the seventh consecutive victory for Ankeny, which also posted a 21-12, 21-12 win over Ames at the Waukee Invitational on Sept. 15. The Little Cyclones, who dropped to 0-3 in the conference and 11-13 overall, played without two varsity regulars.
Ames libero Savanna Perry, a Colorado recruit, broke her wrist during a match at Centennial on Sept. 18. Setter Breanna Schumer was also out–she is recovering from a concussion.
"I'm really proud of the way we played," Little Cyclones coach Peter Cruz told the Ames Tribune. "I think that's one of the best matches we've played this year."
Ankeny jumped out to an 8-0 lead in the opening set before Ames rallied to tie the score at 14. The Hawkettes eventually pulled away to win the set.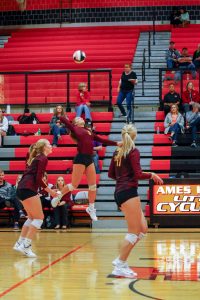 The two teams were tied at 11 in the second set before Ankeny scored 14 of the next 20 points. The Hawkettes then dominated the third set to complete their third straight sweep of a conference opponent.
"We are excited that it's hard to pinpoint one or two players after a match but rather we can talk about how much the team contributed," Morton said. "We were able to score from nearly any position as we needed. Defensively was not different with Kaci Behrens really taking command and control for us."
Behrens racked up 16 digs in the win, while Vacek and Sara McCullough each had three blocks. McCullough also had six kills and hit .600 for the match.
Malea Daugherty pounded seven kills for the Hawkettes. Taylor Richards added four kills and also completed 24-of-26 serves with five aces.
Setter Phyona Schrader enjoyed another strong all-around match. She contributed four kills, 26 assists and nine digs.
Katelyn Courtney led Ames with 10 kills.
"Ankeny is sixth or seventh in the state and probably, I think, should be a little higher, so I'm really proud of the way we played," Cruz said. "I think we need to execute a few things better, especially serve receive, but I really liked the way we played at the net."