A matchup between two of the state's top girls' swimming teams brought out the best in both squads.
Second-ranked Dowling Catholic won nine of the 12 events and posted a 118-68 victory over No. 3 Ankeny on Tuesday at Trail Point Aquatics Center. It was Senior Night for the Hawkettes, who dropped to 0-1 in the CIML Central Conference and 4-1 overall.
"Our senior leadership is outstanding this year," said Ankeny coach Michelle Stout. "These girls bring many years of experience to the team and have been instrumental in developing a great team culture where everyone can improve and contribute to the team's success."
The Maroons took control of the dual meet right away, winning the first three events. The best race of the night came in the 200 freestyle, where Dowling's Berit Quass built an early lead and then held off a late charge by Ankeny's Erin Doruska.
Quass won the race in a time of 1:53.29. Doruska was the runner-up in 1:53.31, just .30 seconds off her own school record.
"I knew that Berit was ahead of me, and I knew that generally I have a really good last 50," said Doruska. "This created a very exciting and close finish, and I couldn't tell who would win the race. Congrats to Berit, and thank you for the great race."
Ankeny got a pair of victories from junior sprinter Jasmine Rumley. She won the 50 freestyle in 23.09 seconds, then later took the 100 freestyle in 51.44.
"Jasmine swam season-best times in both races," Stout said. "She's come off a great week of training and continues to have strong performances."
Erica Peters provided the Hawkettes' other first-place finish. She captured the diving competition with a score of 219.10 points.
"Our diving team is improving with every meet," Stout said. "Erica won the event, while Ali Meier and Jocelyn Riley had season-high scores."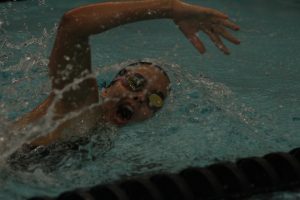 Peters also placed second in the 100 breaststroke in 1:11.56. Teammate Scout Bergwall was the runner-up in the 100 butterfly (57.56) and placed third in the 100 backstroke (1:01.80).
"Scout had another outstanding butterfly race, easily meeting the state-qualifying time and inching closer to the school record," Stout said.
Doruska added a third-place finish in the 100 freestyle. She was clocked in a season-best time of 52.52, but finished behind Rumley and Dowling's Katie Broderick.
"We knew going in that Dowling is a very good team and we were lucky to be able to swim against such a talented group of girls," Doruska said. "(Swimming) against such tough competition really allowed us to see where we can get faster and improve upon."
Also placing third for the Hawkettes were Alexis Henning in the 200 individual medley (2:16.43), Madison Carleton in the 500 freestyle (5:17.58) and Katie Brown in the breaststroke (1:13.43).
"Maddie had strong swims in the 200 and 500 freestyle. She's already met the state-qualifying time in the 500 and is making steady progress to meeting the 200 time as well," Stout said. "Alexis continues to prove her diversity. She swam an impressive IM and contributed to our freestyle relays."
Dowling swept all three of the relays, including a narrow victory in the 200 freestyle relay, where the Maroons posted a time of 1:37.72. The Ankeny foursome of Henning, Carleton, Doruska and Rumley was clocked in 1:38.16.
"We knew that competing with Dowling was going to be a tall task," Stout said. "They have a very talented team and definitely exposed some places we can improve, but we finished the meet with season-best power points (3,780) and a high number of individual season-best times.
"There were a number of very fast races. I can't remember a dual meet in which a 2:00 finish time in the 200 free was a sixth-place finish (Andrea Rodriguez). That's just shy of the state-qualifying time," she added.
The schedule won't get any easier for Ankeny next week. The Hawkettes will travel to Ames on Tuesday for another Central Conference dual meet against the No. 1 Little Cyclones, who have won seven of the last eight state titles.