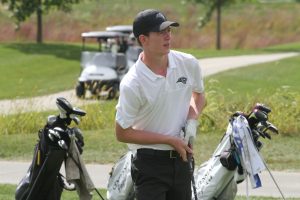 When the CIML Central Conference meet was moved from The Legacy to Blank Golf Course on Wednesday, the six teams in the league had to make some quick adjustments.
Ankeny Centennial did just fine, and so did Ankeny's Hunter Johnson.
The eighth-ranked Jaguars shot a 311 to earn a second-place finish. No. 4 Dowling Catholic also finished with a 311 total, but Centennial had a better fifth score.
No. 2 Johnston carded a 303 to capture the team title.
"I loved the second-place finish," said Centennial coach Rick Fee. "Losing to a great Johnston team isn't a bad loss, and it seems like we are always tying Dowling."
Johnson, meanwhile, shot a 2-over-par 74 to place third as an individual. He led the Hawks, who posted a 323 total, to a fourth-place finish.
"I made a couple errors around the green, but I had not played the course before," Johnson said. "My dad and I came up with a game plan for the course (Tuesday) night, and I stuck to it all day. I had one par-5 I was trying to birdie, and I ended up three-putting it."
Ankeny coach Mike Weddingfeld said Johnson had a great round, considering the course conditions.
"The greens had recently been punched so they were rough," Weddingfeld said. "Hunter was disappointed that he had a couple three-putts, but that happened a lot throughout the tournament. He really hit the ball well, and that is what I was most concerned with."
Johnston's Jarred Bowser shot a 73 to earn medalist honors. Teammate Nick Pittman was the runner-up with a 74.
Centennial posted four scores in the 70s to place four golfers in the top 11. Eric Ossian led the way for the Jaguars, placing seventh with a 76.
"It wasn't a difficult adjustment by any means as (Blank) was an easier course," Ossian said. "However, with the conditions the greens were in, it definitely played a major role."
Centennial's Drake Ellgren placed ninth with a 78, Brian Kolpek was 10th with a 78, and Russell Rydin finished 11th with a 79. Chris McAleer carded an 80 for the Jaguars' fifth score, while Kaleb Faas finished with a 90.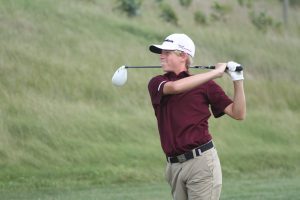 Ankeny's Thomas Nygren carded an 82, Luke Parkinson had an 83, and Corbin Walker added an 84. Dylan Taylor and Ty Roghair each finished with an 85.
"It was unfortunate that the tournament had to be moved as most of the team had never played Blank," Weddingfeld said. "They did go and play a practice round at Legacy so it did hurt us a bit that we had not seen the course, but if you hit fairways and greens then it shouldn't matter."
Both Ankeny and Centennial will compete in a Class 4A district meet on Tuesday at Waveland. They will face a strong field that also includes Johnston, Dowling and host Des Moines Roosevelt.
"I'm looking forward to a tight bunch of great teams," Fee said.
The Jaguars are seeking their fifth trip to the state meet in the six years that the program has existed. They only failed to qualify in 2016.
"The team is very confident," Ossian said. "Everyone is finally putting their game together at the right time, and we want to make a statement this year at state."
Ankeny is trying to qualify for the state meet for the first time since 2012. Johnson could also be a contender to qualify as an individual.
"This is a good round to build on, and we have five days to practice until districts," Johnson said. "I'll approach districts like any other tournament. I'll work hard on my game and play the best I can that day. I'm confident that our team is going to put good rounds together."