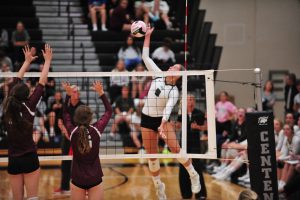 On a team with four Division I players, the Ankeny Centennial volleyball squad is hardly a one-man unit.
On Tuesday, though, it may have seemed that way to visiting Dowling Catholic.
Kenna Sauer pounded 24 of her team's 40 kills to lead the second-ranked Jaguars to a sweep over No. 7 Dowling. She had just three hitting errors in 43 total attacks for a .488 hitting percentage as Centennial rolled to a 25-21, 25-19, 25-21 victory.
"With a team like ours I think on any given night it can be anyone's turn to carry a load for the team. If not all of us, it's always someone," said Sauer, who also had 14 digs and the Jaguars' only ace of the night. "With a good team like Dowling, I knew I had to step up and I just asked (setter) Riley (Morgan) to give me the ball as much as she could, and I did what I could."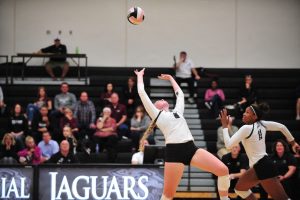 Morgan dished out 38 assists as Centennial improved to 3-0 in the CIML Central Conference and 23-1 overall. The Jaguars have won 18 consecutive matches.
Dowling jumped out to a 6-1 lead in the first set before Centennial rallied. The Jaguars also overcame early deficits in the next two sets.
"I thought it was a great match," said Centennial coach Jessica Rinehart. "Our team got off to some uncharacteristic slow starts, but we rallied back and showed good composure and grit when we needed it."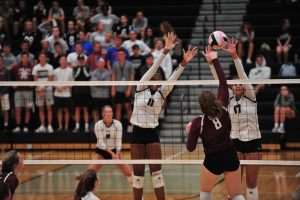 Devyn Robinson had five kills and four blocks in the win, Ari Winters also had five kills, and Megan Lively added four kills and four blocks. Centennial outhit the Maroons, .302 to .144.
Josie Magner racked up 12 digs for the Jaguars. Kenedy Balentine completed all 13 of her serves and also had 11 digs.
"We had worked on coverage this past week, and I thought it really showed," Rinehart said. "Overall, I was really impressed with our effort and our ability to win the big points."
Jacey Koethe had 12 kills to lead the Maroons, who dropped to 1-2 in the conference and 18-9 overall.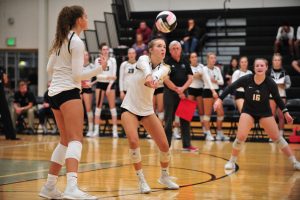 "We were excited to be playing some tougher competition (on Tuesday) and coming up," said Sauer, whose team will play in the Urbandale Invitational on Saturday.
The Jaguars will then travel to No. 6 Ankeny on Tuesday for a showdown against the Hawkettes for the Central Conference title. Centennial won a five-set thriller in last year's matchup.
"We know Ankeny will be an intense match, but we're also very well prepared yet still think we have lots of room for improvement this season," Sauer said. "The Ankeny game is always a fun one. More than anything, we need to be ready to play in that type of atmosphere."