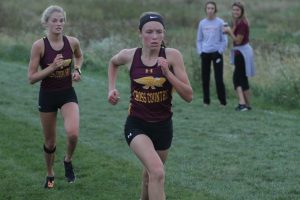 With about one month left in the season, the Ankeny girls' cross country team continues to make positive strides.
The Hawkettes placed fifth among seven teams in the Southeast Polk Invitational on Thursday. They finished with 102 points, but were only 13 points out of third place.
"As a team, we're working really well together," said Ankeny sophomore Madeleine Murphy. "Ultimately, our goal is to run at state together. If we can all push and get there, that'd be great."
Fourth-ranked Southeast Polk won the team title on its home course with 32 points. No. 5 Iowa City West, the defending champion, was second with 48.
Carlisle, the No. 11 team in Class 3A, took third with 89 points. The Wildcats were led by standout freshman Ainsley Erzen, who won the 5k race in a time of 19 minutes 4 seconds, setting her fifth course record in five meets this season.
Murphy led the Hawkettes with a 14th-place finish. She posted a time of 21:23.
"I always feel better at Southeast Polk than I think I do at the other courses," Murphy said. "I ran here for state qualifiers last year, and I felt it was one of the best races I've ever run."
On Thursday, Murphy ran alongside teammate Fiona Riordan for most of the race. Riordan placed 15th in 21:26.
"We've done it before at previous races, but we've kind of split up at different parts," Murphy said. "I think that this new strategy really worked for both of us and just pushed us the whole time."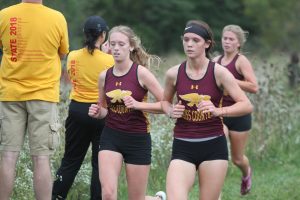 Ankeny's Megan and Sarah Bosch also ran together for much of the race. The sisters even slapped hands at one point to encourage each other.
Megan placed 22nd in a time of 22:05. Sarah finished 24th in 22:17.
Lauren Clark was the Hawkettes' fifth scoring runner. She placed 27th in 22:34.
Ankeny's Lydia Hill took 28th in 22:53. Brooke Johnson finished 29th in 23:08.
"The ladies ran tough races," said Ankeny girls' coach Eric Klingensmith. "We went out with a plan for the first mile, staying with a pack or partner, which was executed in excellent fashion. Madeleine and Fiona ran side-by-side for the entire race, and the remainder of the varsity finished strong, medaling our top four runners."
The Ankeny boys' team also competed in the Southeast Polk meet. However, the fifth-ranked Hawks rested most of their varsity regulars.
Carlisle, the No. 3 team in Class 3A, won the boys' crown with 26 points. Ankeny, which entered just six runners, placed fourth in the nine-team field with 124 points.
Southeast Polk's Drake Hanson outdueled two Carlisle runners to win the boys' race. He was clocked in 17:00.
Jaden Schuster placed 14th to lead the Hawks. He posted a time of 18:03.
Andrew Poock took 21st in 18:19. Carter Smith placed 24th in 18:25, Drake Strnad was 31st in 18:51, Christian Rathje took 34th in 19:01, and Mitch Pevestorf finished 38th in 19:14.