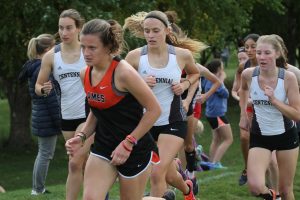 Thursday's Ankeny Centennial Invitational cross country meet produced numerous personal records for both the Ankeny and Centennial girls' teams.
The fast times may have been the result of a short course, but the perfect weather conditions certainly helped.
"I can't say definitively (the course) was short or even possibly long," said Centennial coach Eric Cogdill. "It may seem shocking to see 41 girls out of 61 run a lifetime best. But, we prepare our girls to run fast this time of year. I just looked it up and last year at Fort Dodge–on the same first Thursday in October and with similar weather conditions–we had 40 girls run lifetime bests out of 65 girls."
Both Ankeny and Centennial were slated to run at the Fort Dodge Invitational on Thursday, but the meet was cancelled due to wet grounds. The state meet will be held on the same course later this month.
"We were really disappointed because we love that course," said Centennial sophomore Kathryn Vortherms. "But it makes sense–you don't want to mess it up. But this meet happened, and it turned out really good."
Centennial offered to host Thursday's meet following the Fort Dodge cancellation. Second-ranked Waukee won the team title with 27 points, while No. 7 Valley was second in the 11-team field with 49 points.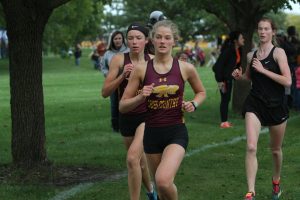 No. 11 Urbandale was third with 96 points, edging No. 10 Centennial by two points. Only 33 seconds separated the Jaguars' top eight runners.
"I can't recall seeing such a close group," Cogdill said. "These girls have done an incredible job racing together for each other and showing that unity can generate great results."
Ankeny, meanwhile, finished in the middle of the pack. The Hawkettes placed sixth with 181 points.
"I was a little disappointed (that Fort Dodge got cancelled) because it's typically a faster course for everyone, but I was looking forward to running this course again because I PR'd here the first race of the season," said Ankeny junior Fiona Riordan. "So I was really happy I got to PR again."
Waukee's Peyton Kelderman won the 5k race in a time of 18:22. She finished 7 seconds ahead of Valley's Lauren Schulze.
Vortherms led Centennial's pack with a 15th-place finish. She posted a time of 19:42.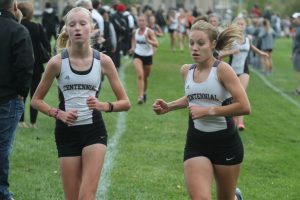 "That's how I run my races the best, coming in strong the last mile," Vortherms said of her fast, closing kick. "I was really happy with my race."
Sophia Lee placed 16th for the Jaguars in 19:45. Jeanne Peters was 19th in 19:50, Kierstan Fritz was 20th in 19:50, Jesslyn Gaumer took 28th in 20:05, Katie Jensen was 29th in 20:08, Morgan Graybill placed 33rd in 20:15, and Grace Meador finished 34th in 20:15.
"The girls get a mental, physical and environmental boost right now," Cogdill said. "Mentally, we were really excited to race after getting a very disappointing cancellation the week before (in Iowa City). We also knew we'd be racing a flat course in cool temps–that was the environmental boost–that we hadn't seen anything close to since the first meet of the season. The girls came into the meet determined to post fast times. And, we also started our taper in the weight room and on the roads for most of the squad, providing a physical boost."
Madeleine Murphy was Ankeny's top finisher, placing 22nd in 19:56. Riordan took 26th in 20:01 after running alongside Murphy most of the way.
"We wanted to try and get good positioning in the beginning," Riordan said. "Then we wanted to try and maintain it throughout the race, and I think we did a pretty good job of that. I was really excited about my race."
Megan Bosch placed 47th for the Hawkettes in 20:56. Sarah Bosch took 50th in 21:09, Eva van de Mortel was 54th in 21:18, Cierra Fillinger placed 55th in 21:20, Talia Dosh was 56th in 21:21, and Lauren Clark finished 63rd in 21:42.