​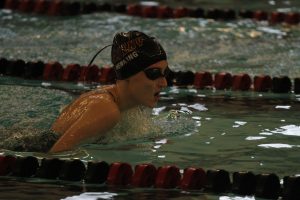 The Ankeny girls' swimming team dominated the Ram Relays on Thursday at Southeast Polk, setting five meet records en route to the team title.
The third-ranked Hawkettes racked up 117 points, 42 more than runner-up Newton/Colfax-Mingo/Pella.
"This meet has an unusual format in that every event is a relay," said Ankeny coach Michelle Stout. "Each (of the individual events) is a relay of two girls, and the relays are eight girls deep. The girls love working together, and the atmosphere is energetic and dynamic."
Scout Bergwall and Jasmine Rumley each contributed to four of the meet records. Those two combined to win the 2×100 butterfly in a time of 1:55.06.
Rumley also teamed up with Erin Doruska to win the 2×50 freestyle. They were clocked in 47.85 seconds.
Bergwall swam on all three of the relays that set meet records. She was joined by Rumley on two of them.
Ankeny won the 8×50 medley relay in 3:44.98. That team consisted of Bergwall, Andrea Rodriguez, Rumley, Doruska, Sydney Hiatt, Erica Peters, Katie Brown and Madison Carleton.
The Hawkettes captured the 8×50 freestyle relay in 3:23.98. Rumley and Bergwall were joined on that unit by Myah Rozinek, Mia Pearson, Mariah Parton, Eva DiMeo, Alexis Henning and Staci Stillmunkes.
Ankeny later closed out the meet by winning the 8×100 freestyle relay in 7:28.26. That squad was comprised of Doruska, Carleton, Rozinek, Hiatt, Bergwall, Pearson, Henning and Rodriguez.
"Many were actually our own records, so it shows how much this team has grown from last season," Stout said.
The Hawkettes won two other events. Peters teamed up with Carleton to win the 2×200 individual medley in 4:42.01, then later combined with Doruska to win the 2×500 freestyle in 10:58.90.