With about 1 minute left in Friday's game at Fort Dodge, Ankeny Centennial running back Gabe Godwin burst through the line of scrimmage at the Dodgers' 15-yard line and appeared to have a clear path to the end zone.
Godwin had already rushed for three touchdowns, but he passed up an opportunity to score again. The 200-pound senior stopped at the 2-yard line and gently fell to the ground.
Quarterback Garret Severseike then took a knee on the next two plays, allowing the third-ranked Jaguars to escape with a 49-44 victory over No. 10 Fort Dodge.
"I was wondering why they were avoiding tackling me and realized that they wanted another opportunity to score," Godwin said of the Dodgers. "I knew we would win if we just (knelt), so I went down."
The hard-fought win allowed Centennial to move closer to the Class 4A District 2 title. The Jaguars are now 3-0 in district play and 7-0 overall, while Fort Dodge's records dropped to 2-1 and 5-2.
The two teams combined for 1,113 yards of offense and 258 yards in penalties on a rainy night. They likely would have combined for 100 points if Godwin hadn't chosen to tackle himself at the end.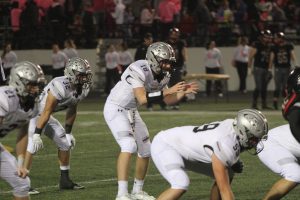 "We thought it was a possibility," Centennial co-head coach Ryan Pezzetti said of the high-scoring contest. "We had some injuries throughout the week. (Lane) Pruisner–one of our best (defensive) linemen–was out. We also lost (defensive end Kyle) Gustafson for the year with an ACL injury. We had some other kids banged up throughout the week, and we just didn't have a real good week because you're limited on your reps and your depth."
The Dodgers racked up 25 first downs and 511 total yards on Centennial, which was the top defensive unit in the state heading into the game. The Jaguars had allowed just 31 points in their first six games combined.
"I never thought we would give up that many points," said Centennial linebacker Logan Neils, who made 14 tackles and also recovered a fumble. "But they're explosive. I don't know how many times they threw the ball, but not very many of them touched the ground."
Fort Dodge quarterback Drake Miller, the son of head coach Matt Miller, completed 26-of-39 passes for 363 yards and three touchdowns. Tysen Kershaw caught 11 passes for 190 yards, including a 66-yard touchdown.
Miller also ran for 67 yards and two more scores.
"They're well coached," Pezzetti said of the Dodgers. "Coach Miller does a great job, and anytime you have the son of the head coach playing quarterback, you could see he's a competitor–he's tough–and he wasn't going to quit. They knew what was at stake, but so did we."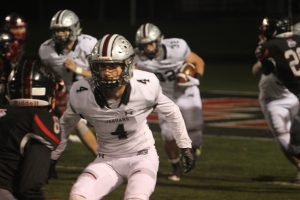 The Jaguars survived on the strength of their powerful running game. Godwin rushed for 181 yards on 24 carries, while Avery Gates ran 10 times for 161 yards and a pair of touchdowns.
"I thought we were going to come in here and have a pretty tight, kind of low-scoring game," said Gates, who scored on runs of 71 and 6 yards. "But both offenses showed out, and it was a pretty fun game."
Severseike also had a huge night through the air, completing 6-of-7 passes for 215 yards. He threw a 41-yard scoring strike to Ben Breeding in the second quarter to put Centennial ahead for good, 21-14.
The Jaguars led at halftime, 28-20, and then increased their lead when Gates returned the kickoff to open the third quarter 97 yards to the end zone.
"We were talking about it on the sidelines–we wanted something big out of our special teams, and we knew it could happen," Gates said. "We just went out there and everything was executed pretty well. It worked out good."
Fort Dodge later closed the gap to 42-37 on a 10-yard keeper by Miller with 8:17 left. The Jaguars then responded with an 11-play, 87-yard drive–all of it on the ground–that took nearly 5 minutes off the clock.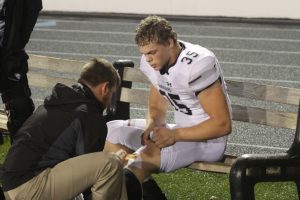 Godwin ran for 36 yards to the Dodgers' 19-yard line, then bulled his way for 3 more yards on a crucial fourth-and-2 play. He rumbled 8 yards for a touchdown on the next play to give Centennial a 49-37 lead with 3:21 remaining.
"Toward the end of the game, I knew I would be getting the ball more," said Godwin, who was also pressed into duty as a defensive end. "Coach likes to do that in short-yardage situations and to just run the clock down."
Fort Dodge quickly answered, though. The Dodgers pulled to within 49-44 when Miller tossed a 4-yard jump pass to Dayson Clayton, who had slipped and actually caught the ball while laying on his back in the end zone with 1:48 to go.
"I'm damn proud of them. What more can you say?" coach Miller told the Fort Dodge Messenger. "We left it all out there; that's what a fight for a district championship should look like. We're not satisfied with being good but not quite good enough, though. And that's something important to take away from this. If you're going to beat us, you better give it your all, because that's what this group is going to do."
After Centennial recovered the ensuing onside kick, the Jaguars put the ball in Godwin's hands to seal the victory. He ran for 7, 19 and 9 yards on three consecutive carries, then picked up 13 more on his last attempt before falling to the ground.
"He's a heavy back," Gates said of Godwin. "We throw him in the middle, and he gets a lot of yards after contact. He's great for those situations."