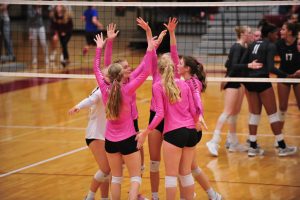 When the Ankeny volleyball team lost Kaci Behrens to an apparent concussion during the Bettendorf Invitational on Saturday, the Hawkettes didn't panic.
Senior Karly Weber took over the libero position and helped sixth-ranked to a 5-1 record in the round-robin tournament. The Hawkettes, who improved to 28-12 overall, captured the Bettendorf title for the third straight year.
"Overall, it was a good day," said Ankeny coach Joe Morton. "The girls really bonded around each other and made up for the loss of Kaci. It was a good momentum and confidence-building day."
Ankeny's only loss of the day came against Clinton, 23-21, 13-21, 15-11. The two teams had split a pair of meetings at the Ankeny Centennial Invitational on Aug. 25.
"We had trouble getting back into rhythm after Kaci got hurt," Morton said.
However, the Hawkettes regrouped and later rolled to a 21-4, 21-17 victory over Bettendorf. That match was a rematch of last year's tournament final.
Ankeny also posted a 21-17, 15-21, 15-12 win over No. 11 Iowa City High.
"I was really proud and humbled by Karly's play," Morton said. "She stepped in and was phenomenal. We were also able to get some other kids off the bench and get a feel for the depth we truly have."
Ankeny will close out the regular season on Tuesday with a match at No. 15 Johnston. The Hawkettes can wrap up a second-place finish in the CIML Central Conference with a victory.