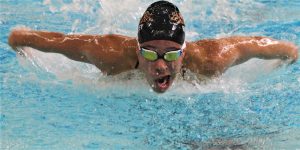 The members of the Ankeny girls' swimming team should have been suffering from fatigue on Tuesday.
However, the fourth-ranked Hawkettes still posted some impressive times en route to a 135-51 victory at Johnston.
"At this point in the season, both teams are making a final push for strength and speed before we enter the championship phase of our season," said Ankeny coach Michelle Stout. "We're all swimming sore and tired, but with that being said, we still had a number of great swims and even some personal and seasonal best times."
The win improved Ankeny's records to 1-2 in the CIML Central Conference and 5-2 overall. All five of the Hawkettes' victories have been decided by 40 or more points.
Ankeny swept the top three places in three individual events–the 200 individual medley, the 500 freestyle and 100 backstroke. Alexis Henning won the backstroke in a time of 1:00.22.
"Our backstrokers had an exceptional night," Stout said. "Henning finished with a state-qualifying time."
Erin Doruska won the 200 freestyle in 1:55.76, then later captured the 500 freestyle in 5:15.05. Fellow senior Andrea Rodriguez took the 200 IM in 2:14.67 and finished second behind Doruska in the 500 freestyle (5:21.30).
"The seniors on the squad continue to step up and show great leadership and support to the team," Stout said. "The culture and example they provide is outstanding."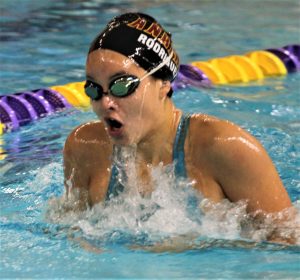 Ankeny also boasts some talented freshmen, including Madi Carleton and Mia Pearson. Pearson won the 50 freestyle in 25.46, while Carleton was the runner-up in both the 200 freestyle (1:57.86) and the 100 freestyle (55.15).
The Hawkettes also got victories from Jasmine Rumley in the 100 butterfly (58.28) and Katie Brown in the 100 breaststroke (1:13.21). Erica Peters took second in the breaststroke in 1:14.08.
Ankeny's Staci Stillmunkes was the runner-up in the 50 freestyle in 25.76. Teammate Scout Bergwall was second in the backstroke in 1:01.84, and Henning finished second in the IM in 2:16.13.
"We have a number of girls very close to the state-qualifying times that swam very well, including Henning, Rodriguez, Carleton, Pearson and (Sydney) Hiatt," Stout said. "We can go into the regional meet very confident that we can qualify girls in most every event."
Ankeny also swept the top two places in each of the three relays. Rumley anchored all three winning relays.
The Hawkettes opened the meet by winning the 200 medley relay in a time of 1:51.90. That team consisted of Hiatt, Peters, Bergwall and Rumley.
Ankeny won the 200 freestyle relay in 1:42.84. Rumley was joined on that unit by Carleton, Peters and Stillmunkes.
The Hawkettes closed out the meet by winning the 400 freestyle relay in 3:43.42. That squad was comprised of Pearson, Henning, Bergwall and Rumley.