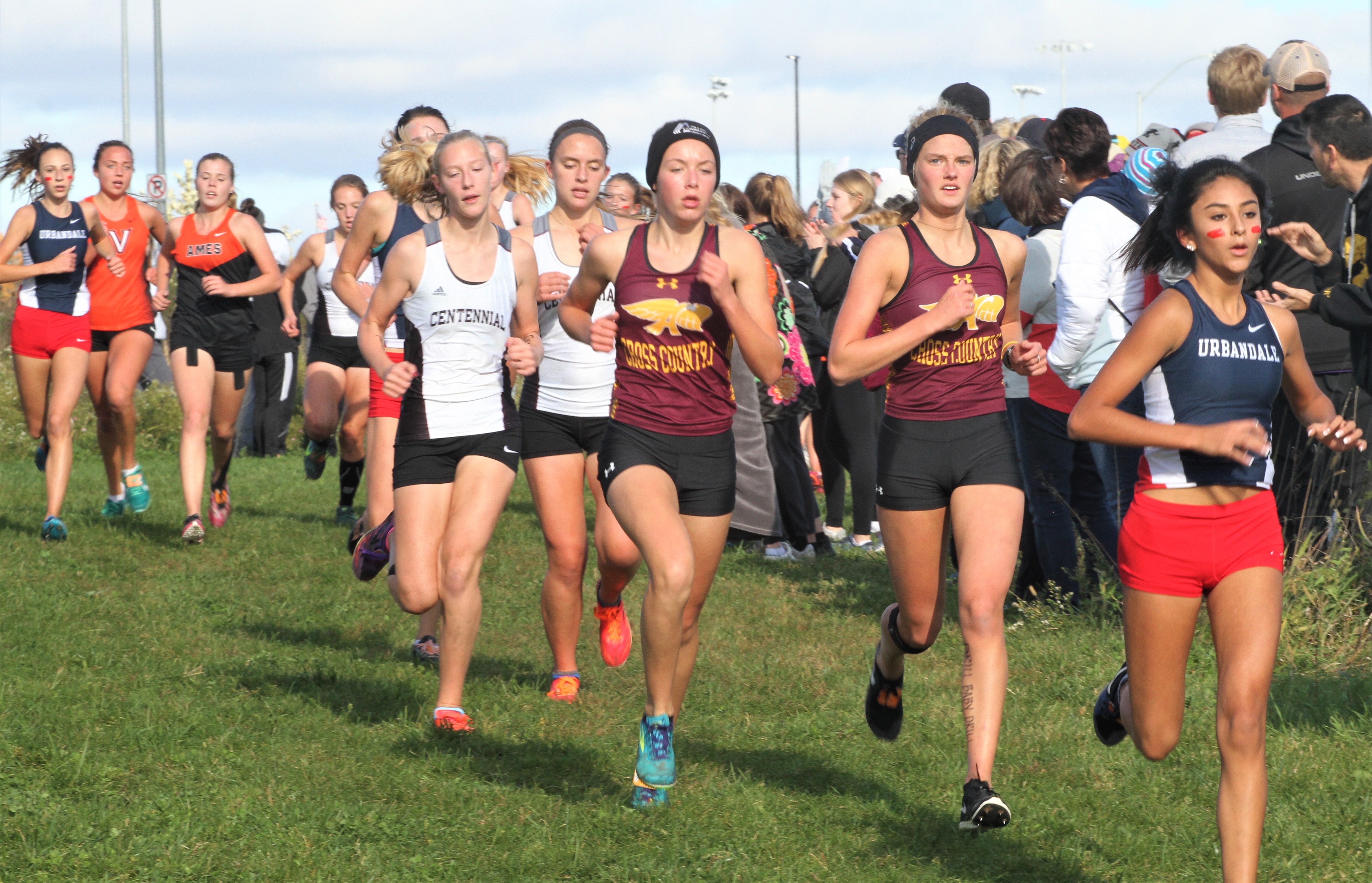 When the CIML Central Conference cross country meet was moved to Southeast Polk, it forced many of the girls' teams to reconsider their strategy.
The Central Conference teams ran in the same race on Thursday along with the six schools from the CIML Iowa Conference. Separate conference champions were crowned, even though the combined results were also tabulated.
"We just thought that we needed to get out of the box fast to beat the crowd," said sophomore Madeleine Murphy, who led Ankeny to a fifth-place finish in the Central Conference. "Other than that, we stuck with our same strategy and tried to get our goal time for this race."
Top-ranked Johnston easily won the conference title with 20 points. The Dragons also captured the overall CIML crown.
No. 7 Dowling Catholic was second in the Central Conference with 54 points. No. 10 Urbandale took third with 95 points, finishing 12 points ahead of No. 11 Ankeny Centennial.
"We ran here last year (at the Southeast Polk Invitational), and our strategy changed from then to now, having that experience," said Centennial junior Jeanne Peters. "We were trying to go out a little more conservative and not kill the first 1.9 miles because the last part has the hills on it."
Ankeny finished with 141 points, edging Ames by two points for fifth place.
"Our conference contains four highly-ranked teams, giving us a great opportunity to race against a very competitive field," said Ankeny coach Eric Klingensmith. "In order to take full advantage of these circumstances, we devised a plan to run our race for time goals in each mile rather in preparation for next week's regional meet. We attempted to hit those times in search of an overall time that would afford us the ability to close gaps against the top three ranked teams in our regional meet."
Johnston, the two-time defending Class 4A state champion, placed all seven of its runners among the top 11 finishers in the Central Conference. Brooke McKee led the way, winning the 5k race in a time of 19 minutes 12 seconds.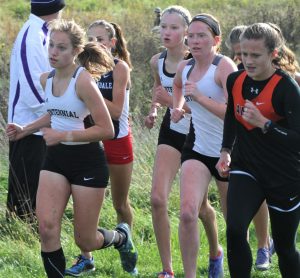 Kathryn Vortherms placed 13th in 20:41 to lead Centennial. She earned all-conference honors along with Peters, who took 16th in 21:00.
"We continue to rotate our varsity athletes providing rest across the long season with our eyes on two big meets coming up," said Centennial coach Eric Cogdill. "We did not race Sophie (Lee), Kierstan (Fritz) and Jesslyn (Gaumer), who were all in our top five a week ago. They put in a very nice workout on the sidewalks near the meet instead of a full race effort."
Katie Jensen placed 21st for the Jaguars in 21:13. Morgan Graybill took 28th in 21:30, Brianna Smith was 29th in 21:31, Macie Langstraat placed 32nd in 21:58, and Kendall Jorgensen finished 33rd in 22:02.
"We knew we were going to be a little short-handed in the middle, and my goal for the girls was to make Urbandale work hard for the edge in the team race," Cogdill said. "A week ago, they got us by two points and this time it was 12. It would have been over 30 points last week with the same three (runners) removed (from the lineup). We just had some outstanding efforts as our girls look sharper every week. Both Jeanne and Katie finished ahead of Urbandale girls who beat them last week."
All of the runners had to navigate a soggy course. The Central Conference meet was supposed to be held in Ames, but the condition of the Iowa State cross country course was even worse.
"It was soggy, but it wasn't as bad as it could be," Peters said.
Murphy placed 18th in 21:06 to lead the Hawkettes. Teammate Fiona Riordan was 20th in 21:12.
"They both dropped significant time from our last meet at Southeast Polk (on Sept. 27)," Klingensmith said.
Ankeny's Megan Bosch placed 30th in 21:44. Cierra Fillinger took 36th in 22:08, Sarah Bosch was 37th in 22:13, Eva van de Mortel placed 38th in 22:32, and Talia Dosh finished 39th in 22:36.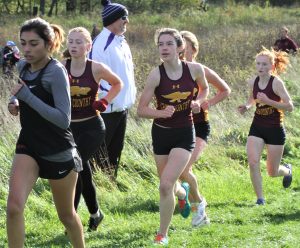 "We had a great race from Cierra, who has been in and out of the varsity lineup this season," Klingensmith said. "Our 5 and 6 runners battled it out with the top two JV runners on our squad to earn a varsity position for next week. It's great to have the depth that we do on our team that our 5 and 6 runners can make moves in and out of the lineup by competing with each other every race."
Both Ankeny and Centennial will now prepare to run in Thursday's regional meets. The Hawkettes will compete in Indianola, while the Jaguars are headed to Marshalltown.
"We're really excited to go to Marshalltown," Peters said. "That was probably our top choice of the three places that we could have been sent to."
No. 2 Waukee and No. 12 Iowa City West will be among the other teams in the field.
"If no hiccups occur, all seven of our racers can finish in the top 25," Cogdill said. "Considering that we qualified for state in 2013 with just three girls in the top 25, we feel very good about our prospects for making the state meet. We have raced every opponent there at least once this year and outside of Waukee, we hold a combined record of 18-0 against the other seven teams."
Ankeny, meanwhile, will likely face a bigger challenge. There are three top-10 teams in the Indianola field–No. 3 Southeast Polk, Dowling and No. 9 Des Moines Roosevelt.
"We believe that we have the desire to earn a place at state as a team, but realize that we must push beyond our comfort level in order to achieve it," Klingensmith said. "It's going to be an uphill battle, but it's one that we are preparing for with deliberate and purposeful actions."
The meet will be held at Pickard Park.
"I heard it's a little hilly over there," Murphy said. "There are some good teams in the race, but I think we're up for the challenge."