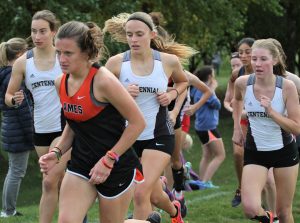 The Ankeny Centennial girls' cross country team is headed back to the Class 4A state meet.
The Jaguars will be joined in Fort Dodge by Centennial senior Jonah Vicker, who qualified for the boys' meet as an individual by placing fourth in a district meet on Thursday at Marshalltown.
Vicker watched the state meet a year ago as his brother, Gabriel, competed for the Jaguars. This year, it will be the other way around.
The Centennial boys' team placed fourth in the nine-team field with 98 points and failed to qualify for state.
"I was happy with my race," said Vicker, who posted a time of 16 minutes 35 seconds in the 5k race. "But it was a sad and bittersweet afternoon."
The Centennial girls' squad easily qualified for their sixth consecutive state-meet appearance. The 12th-ranked Jaguars placed third with 75 points, finishing 26 points ahead of Ames.
No. 2 Waukee captured the girls' regional title with 36 points. No. 9 Iowa City West was the runner-up with 58 points.
"Our girls did it again," said Centennial coach Eric Cogdill. "The six years in a row is the longest streak for a girls' cross country program in town and is now the seventh-longest in Class 4A. Coach VanderWilt has now qualified with a full Ankeny team 11 years in a row as an assistant coach."
Iowa City West's Deniz Ince won the girls' race in a time of 18:49. She finished 6 seconds ahead of Ames' Camille Jackson.
Centennial was led by sophomore Kathryn Vortherms. She placed fifth in 19:51.
"Kathryn stormed through the second half of the race, running her final mile through the uphill section within 4 seconds of the same section when it was downhill during the first mile," Cogdill said. "She moved from 11th to sixth during that mile and then made one extra pass in the finish chute to pull in a fifth-place result."
Two other Jaguars also qualified for the state meet as individuals. Jeanne Peters was seventh in 20:08, while Katie Jensen took 14th in 20:34.
"Jeanne, running with Kathryn through two miles, also had a strong finish as she stormed by three girls in the final 200 meters," Cogdill said. "And Katie moved up from 21st place to earn individual qualifier status, too. Her time was a drop of 83 seconds from the same course when she was running the 9/10 race just six weeks ago. She will have a great chance to dip under 20:00 next week at the state meet."
Centennial's Kierstan Fritz placed 21st in 20:59. Brianna Smith took 28th in 21:27, Jesslyn Gaumer was 30th in 21:42, and Sophia Lee finished 32nd in 22:01.
"Our team was happy with how we performed, but there is always room for improvement," Gaumer said. "We are looking to finish in the top 10 at state as a team and striving for personal bests."
Cogdill said six of his seven runners posted faster times than six weeks ago on the same course.
"Of the six who dropped, it was an average improvement of 52 seconds per girl," he said. "This improvement came despite running a high quality anaerobic workout on Monday that the girls knew would still be in their legs on race day. Additionally, we had our girls prepare for state by executing a fast start so they are ready to handle the energy next weekend. We are well positioned to run our best at state."
No. 5 Waukee won the boys' team title with 35 points. Unranked Iowa City West took second with 48 points, while No. 12 Ames also qualified for state by placing third with 63 points.
The Jaguars were hoping to qualify for the second time in school history. They placed 13th in the state meet in 2015.
"Gabe (Vicker) and Connor Cunningham were both sick, but gave us what they could," said Centennial coach Chad Fickbohm. "It was horrible timing for that to happen. It really doesn't reflect the season we have had, but that is how the sport works."
Kolby Greiner of Iowa City West won the race in 15:51. Aniey Akok of Ames was second in 16:22, followed by Travis Loecke of Waukee and Vicker.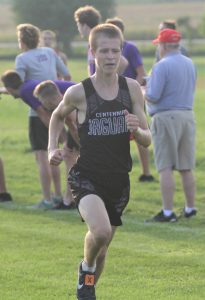 "Jonah had a very good race," Fickbohm said. "He has worked very hard for this, and his confidence showed. He has been a great leader for us, and he has definitely earned this."
Nate Jones placed 17th for the Jaguars in 17:12. He fell two spots and about 10 seconds shy of qualifying for state as an individual.
Centennial's Ian Luke took 24th in 17:41. Kade Christensen was 25th in 17:42, Gabriel Vicker placed 28th in 17:51, Alex Patkin was 30th in 17:53, and Cunningham finished 33rd in 18:04.
The state meet will be held on Oct. 27 at Lakeside Golf Course in Fort Dodge.