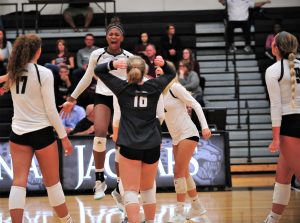 The Ankeny Centennial volleyball players have had a full week to prepare for postseason play.
The second-ranked Jaguars (36-3) closed out the regular season on Oct. 15 with a five-set loss to Omaha Marian, the No. 4 team in Nebraska's Class A. The Crusaders have won four of the last five Class A titles.
"We got a competitive match, and that's what we wanted," said Centennial coach Jessica Rinehart. "Marian plays a lot of defense, so I think we needed to match their level of defense to come out with the 'W', and we did at times. But I think it was a good indication of what a state match is going to be like. It's going to be that level of play, and we're going to have to work hard for those points."
The Jaguars will host Des Moines Roosevelt (20-19) in a Class 5A regional semifinal on Tuesday at 7 p.m. The Roughriders are riding an eight-match winning streak, but were swept by Centennial in an earlier meeting on Sept. 13.
Roosevelt is led by junior Precious Daley, who has racked up 192 kills and 48 blocks. Adrien Hanson paces the defense with 349 digs.
Kenna Sauer leads the Jaguars with 358 kills. Setter Riley Morgan has dished out 874 assists.
With a win, Centennial would host Sioux City East (19-20) or Sioux City North (15-22) in the regional final on Monday at 7 p.m. East and North have split four previous meetings this season.
"I think we are in a good position to take care of what we need to," Rinehart said.