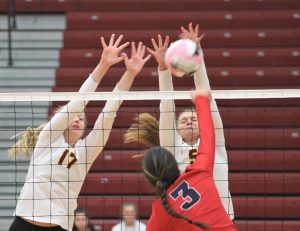 The Ankeny volleyball team proved on Tuesday that the Hawkettes don't have to rely on just one or two hitters.
Five different players had six or more kills as sixth-ranked Ankeny opened postseason play with a 25-11, 25-12, 25-7 victory over visiting Marshalltown in a Class 5A regional semifinal. The Hawkettes (30-12) hit .461 as a team, committing just five hitting errors in 76 total attacks.
"I thought we had good energy," said Ankeny setter Phyona Schrader, who dished out 29 assists and also had six kills. "One of the things I focused on was feeding the middles more."
McKenna Scheib, a sophomore middle hitter, led Ankeny's balanced attack. She had nine of the team's 40 kills in just 12 swings, compiling a .750 hitting percentage.
Sara McCullough, Taylor Richards and Isabelle Vacek each added seven kills. McCullough also had four blocks, while Richards contributed 12 digs and had four of the team's 10 aces.
Karly Weber added 13 digs for the Hawkettes, who will host Ames (12-23) in a regional final on Monday at 7 p.m.
"I was just really proud of the way the girls came out and played. Their efforts were phenomenal," said Ankeny coach Joe Morton. "We were really good in serve receive. We had a few undisciplined points at times, but I think the girls understand that we have a few things to fix before we play again. But on the whole, we're in a good spot right now."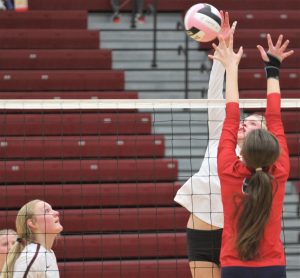 Ankeny took control of the opening set with an early five-point run, getting a pair of kills from Vacek as the Hawkettes jumped out to a 6-2 lead. McCullough later pounded a kill to close out the set.
Ankeny then scored nine straight points with Schrader serving to open the second set. Schrader fired two aces during the run.
The Hawkettes eventually closed out the match on a kill by Katarina Deaton, one of 15 players who saw some action for Ankeny.
"I think we could have been a little more focused, but I'm proud of the way our girls played, especially the subs that went in," said Ankeny libero Kaci Behrens.
Behrens played in two of the three sets and had two aces. She returned to the Hawkettes' lineup after recovering from a concussion that she suffered during the Bettendorf Invitational on Oct. 6.
"There was a dump, and me and Phyona went for it at the same time and I took an elbow to the head," Behrens said. "But it's all good now. I'm still working in practices and taking it a little lighter. Hopefully, this week I'll get back to 100 percent."
Morton said his team was anxious to get back on the court after a 13-day layoff. The Hawkettes closed out the regular season on Oct. 9 with a victory at Johnston.
"Not having competition for two weeks can sometimes hurt us, but I think it was good from the standpoint that we're healthy and our legs are fresh again," he said. "Now we need to get back into competition mode, and I was really excited with the way the girls competed."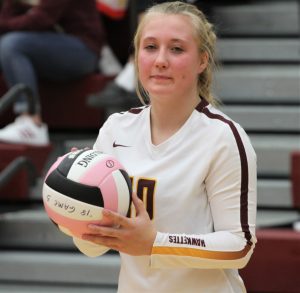 Marshalltown had just 13 kills on the night. The Bobcats finished the season at 13-21.
Morton has coached club volleyball with Marshalltown coach Chris Brees, but he didn't come up with any special strategy for the match in an effort to catch the Bobcats off-guard.
"We've got a belief right now that it's on our side of the court," Morton said. "We do what we need to on our side of the court, and the other teams have to prepare for us rather than us prepare for them. We're really just trying to focus on what we do on our side of the net and let everything else shake out."
Brees told the Marshalltown Times-Republican that the Bobcats had been preparing for Ankeny since the end of the regular season, but that his players seemed to forget everything they had worked on.
"We knew exactly what they were going to do, we didn't respond, we chose to execute things that weren't going to work against them," Brees said. "When you put that effort against a very good, ranked team that should be at state that's kind of the outcome that you are going to get."
Ankeny will face a familiar foe in the regional final. The Hawkettes have already swept Ames twice this season.
The Little Cyclones outlasted Southeast Polk in five sets on Tuesday to snap a 13-match losing streak.