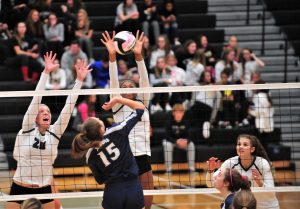 As far as the Ankeny Centennial volleyball players were concerned, it didn't really matter who was on the other side of the net on Tuesday.
The goal for the Jaguars was simply to play their game.
Mission accomplished.
Second-ranked Centennial rolled to a 25-7, 25-11, 25-18 victory over visiting Des Moines Roosevelt in a Class 5A regional semifinal. The Jaguars (37-3) moved one win away from a sixth consecutive trip to the state tournament.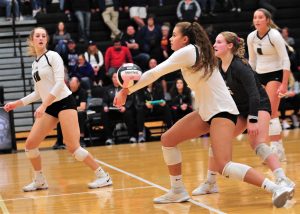 "We were happy with how we played," said Centennial senior Kenna Sauer. "We think we came out and played our level, dominated in every area, and overall just had a lot of fun. We've been trying to focus on playing up to our level no matter who we are playing, and (Tuesday) we definitely did that."
Sauer and Ari Winters each had 11 kills as Centennial swept the Roughriders (20-20) for the second time this season. Winters also had four blocks.
The Jaguars hit .438 as a team, committing just nine hitting errors in 64 total attacks.
"I thought we were fantastic," said Centennial coach Jessica Rinehart. "I liked the way we approached the match and our energy on the court. The first two games we played super clean, and we executed at the level we hope to be at at this point in the season. The girls have been working extremely hard in practice, and it was great to see it pay off on the court."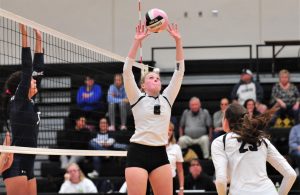 Devyn Robinson had five kills and four blocks in the win. She also completed all 19 of her serves.
Riley Morgan dished out 38 assists and also led the defense with nine digs. Josie Magner had three of Centennial's eight aces.
The Jaguars will host Sioux City East (20-20) in the regional final on Monday at 7 p.m. East swept rival Sioux City North on Tuesday, defeating the Stars for the third time in five meetings this season.
"We don't know much about our next opponent yet," Sauer said. "We will probably be scouting them in the next week. At this point no one wants their season to be over so we can't overlook anyone, but we still just want to focus on doing what we do."