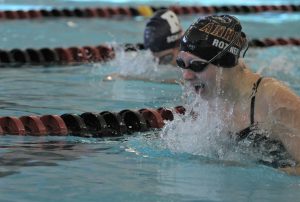 After placing fourth at last year's state meet, the Ankeny girls' swimming team is looking to move into the top three at this year's meet, which begins on Friday at the Marshalltown YMCA.
Second-ranked Ames is seeking its eighth state title in nine years, but the Little Cyclones could be challenged by CIML rival Dowling Catholic, last year's runner-up. The Maroons moved into the No. 1 spot in the power rankings after racking up 4,449 power points in a regional meet on Saturday at Grinnell.
Ames had held the top spot with 4,441 power points, which was set on Oct. 9 during a 116-70 dual-meet victory over the Maroons. Ankeny is now ranked third with 3,961 points after winning a regional title at Trail Point Aquatics Center.
This year's state meet will feature a new prelim/final format. The prelims are slated for Friday at 5:30 p.m., and the finals will begin at 4 p.m. on Saturday.
The diving event will be held on Saturday at 9 a.m. Ankeny freshman Erica Peters is one of the 32 diving qualifiers.
The Hawkettes are seeded second in both the 200 medley and 200 freestyle relays. They are seeded seventh in the 400 freestyle relay.
Ankeny junior Jasmine Rumley is the defending champion in the 50 freestyle. She is the top qualifier in that event.
Rumley is looking to improve on her second-place finish in the 100 freestyle at last year's meet. She is seeded second in that event behind Ames' Amy Feddersen, the defending champion.
"I was happy with my times at regionals," Rumley said. "I wasn't expecting to go that fast because we hadn't tapered yet, so I feel more confident going into state than I would have. I just want to go faster than last year and to finally break 50 (seconds) in the 100 free."
Erin Doruska, Scout Bergwall and Madi Carleton are Ankeny's other top qualifiers. Doruska is seeded fifth in the 200 freestyle and sixth in the 100 freestyle, Bergwall is sixth in the 100 butterfly, and Carleton is eighth in the 500 freestyle.
Peters is seeded 10th in the 100 breaststroke. Alexis Henning, Sydney Hiatt, Myah Rozinek, Andrea Rodriguez and Shea Yuran also qualified in individual events for the Hawkettes.