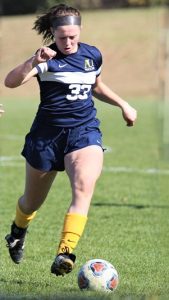 Former Ankeny soccer star Alexis Legg has been named the Freshman of the Year in the Northern Sun Intercollegiate Conference. She was also named to the all-NSIC third team.
Legg, a midfielder, is having one of the best freshman seasons in Augustana program history. She has scored a team-high 10 goals, which ranks fifth in the NSIC.
Legg has already scored three game-winning goals for the Vikings. Her 21 points is the most on the team, and she ranks in the top 10 in league play with 13 points.
Augustana racked up 11 wins during the regular season. Following an opening-round win in the NSIC tournament, the Vikings will now take on Minnesota State in the NSIC semifinals on Friday at 11 a.m. in Mankato, Minn.
Two former Ankeny Centennial standouts are also members of the Augustana squad. Junior Claire Dahm and freshman Kenzie Geiger are both forwards for the Vikings.