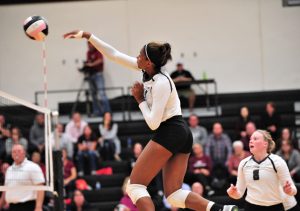 During the regular season, the Ankeny and Ankeny Centennial volleyball teams dominated their other opponents in the CIML Central Conference, sweeping every match in three sets.
That allowed the two squads to battle each other for the conference title on Oct. 2, when the Jaguars swept Ankeny on the Hawkettes' home court.
It's not a surprise, then, that Ankeny and Centennial combined to place six players on the Central Conference first team. Four more players earned second-team honors from the league's coaches.
Centennial was represented on the first team by senior outside hitters Kenna Sauer and Ari Winters, senior setter Riley Morgan and junior middle hitter Devyn Robinson. Sauer and Robinson were both unanimous selections for the Jaguars, who will take a 38-3 record into next week's Class 5A state tournament.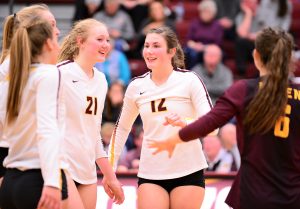 Ankeny placed junior right-side hitter Isabelle Vacek and sophomore setter Phyona Schrader on the first team. Schrader was a unanimous pick for the Hawkettes, who are 31-12 heading into the state tournament.
Senior middle hitter Jacey Koethe of Dowling Catholic and senior outside hitter Brooke Dannenfeldt of Urbandale were the other first-team picks. Koethe was also a unanimous selection.
Senior middle hitter Megan Lively and senior libero Josie Magner of Centennial were both named to the Central Conference second team. They were joined on the squad by senior middle hitter Sara McCullough and junior libero Kaci Behrens of Ankeny.
Two other Hawkettes received all-conference honorable mention. They are senior outside hitter Taylor Richards and junior outside hitter Malea Daugherty.