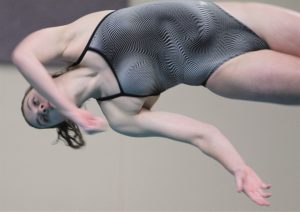 Ankeny's Erica Peters was the only freshman placewinner in the state diving meet on Saturday morning at Marshalltown.
Peters placed 14th in a field of 32 competitors with 386.35 points. She scored three team points for the Hawkettes, who sit in 10th place heading into the swimming finals, which begin at 4 p.m.
Jayna Misra of Ames easily defended her state diving title, racking up 555.35 points. Ayla Taylor of Cedar Rapids Washington was the runner-up with 476.75 points.
Ames also got a third-place finish from Jocelyn Buss and a ninth-place finish from Celeste Enyeart. The second-ranked Little Cyclones–who are seeking their eighth state title in nine years–have already scored 45 points, 23 more than second-place Waterloo.